by Alex Z. Salinas (B.A. '11)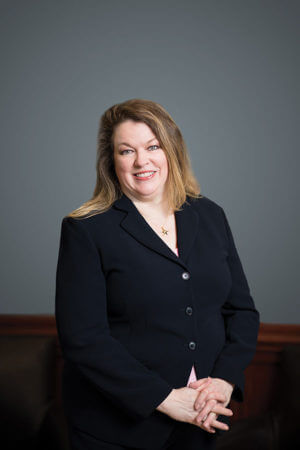 By age 22, Sarah Place (M.B.A. '98) had lived in 13 states — but had yet to truly find her place.
One of those stops was Texas, where her father was stationed at Fort Sam Houston. After graduating from Robert G. Cole High School, Place moved to Massachusetts.
Little did she know she'd one day return to her old stomping grounds to study or that she'd later make her career by opening her own brokerage and online trading firm — Place Trade Financial, Inc.
While in Massachusetts, Place earned a bachelor's degree in economics and finance, and worked for international finance firms before her husband, also in the military like her father, was transferred to San Antonio.
Place, who was only a few electives shy of earning a master's degree in finance before packing her bags, had to weigh her educational options.
"Unfortunately, online education wasn't yet a thing, so being newly married, working full time and not wanting to start from scratch, I thought about St. Mary's," said Place, who had friends enrolled.
"I knew it was a great school."
She enrolled in the MBA program and was immediately impressed by "the much-desired smaller class sizes, the diverse student body and the ability to speak directly with my professors."
Place, already employed at a national brokerage firm while at St. Mary's, soaked up all the knowledge she could.
"Looking back, the professors played an important role in shaping the person and professional I am today," she said. "They instilled in me a quiet confidence."
She said she was stunned when professors twice recommended she get a doctoral degree, adding, "I couldn't believe esteemed educators would think someone like me could be worthy of that."
While Place didn't choose to pursue a doctorate, her eyes were "forced open," and she suddenly imagined herself creating opportunities she hadn't before thought possible.
Three years after graduating from St. Mary's, in 2001, Place founded her own brokerage and online trading firm, Place Trade — incorporated a year later as Place Trade Financial, Inc.
The company, based in Raleigh, North Carolina, has for nearly two decades remained modestly sized. Its previous recognition by Barron's magazine, a national publication dedicated to covering the world of finance, landed it in a league with much larger competitors, such as Fidelity, TD Ameritrade and Charles Schwab.
This has sometimes translated into Place logging up to 20-hour work days as president and CEO, though she strives to maintain work-life balance.
"I joke with people that going to the gym is my part-time job," Place said. "Doing some form of exercise helps to fight the stress and other pesky health issues."
She has also been honored by various organizations for her work as a businesswoman and community leader, and dedicates her extra time to publishing a financial self-help book, From Broke to Badass, anticipated in 2019. But despite her ongoing busy schedule, Place always tries to make having fun a part of her day.
"I love to see others smile and make them laugh," Place said. "I imagine that somewhere, in a parallel universe, I'm out there rocking the standup comedy circuit."