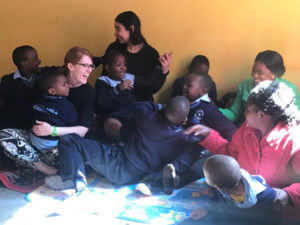 Jillian Pierucci, Ph.D., Associate Professor of Psychology, wants to make the world a more inclusive place — especially through her research in autism awareness, which has brought her more than once to Africa.
Growing up in a large family, being around children, Pierucci intended to pursue a medical degree in pediatrics, but switched trajectory after taking a psychology elective as an undergraduate at the University of Texas at Austin.
"I love working with kiddos," she said. "I knew when I had my field placement with early childhood intervention that this was my niche."
During graduate studies at the University of Alabama, Pierucci worked with toddlers in an autism clinic. The autism spectrum disorder is categorized as a developmental disorder affecting communication and behavior, according to the National Institute of Mental Health. During that time, she also traveled with her sister to Zambia, a country in East Africa, to volunteer.
"We worked in the Kafwa Drop-In Center, an orphanage, and I knew then that I had to come back," Pierucci said.
In 2017, Pierucci received the Edward and Linda Speed Peace and Justice Fellowship, a faculty scholarship that advances Catholic social teaching, human rights, social justice and peace-building. With this award, she returned to Zambia with funding for her early childhood intervention work. Partnering with the University of Zambia in summer 2018, Pierucci began the work of bringing services to children with autism.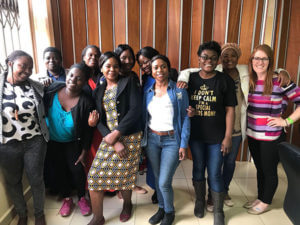 "In the United States, we have service providers who do home visits to help families with social normalization, but this doesn't happen in Zambia," she said. "In fact, there is a stigma surrounding children and individuals with atypicalities, or differences, from the normal and expected behavior."
Through her efforts last summer, Pierucci worked for two weeks with 19 caregivers who oversaw 20 children with aypticalities to provide education and strategies to improve social communication. Using principles in Teacher Social Communication to Children with Autism, a book by Brooke Ingersoll and Anna Dvortcsak, Pierucci taught caregivers natural methods of helping their children with social imitation, social engagement, language and play.
"I don't want parents who need a toolkit," she said. "I want parents to have strategies to use with whatever they have or don't have in the home."
Cultural sensitivity is a major factor when working with caregivers of children and individuals with atypicalities, which makes the natural application of strategies versus a prescribed toolkit important.
"For instance, Play-Doh is considered an elitist toy so we would make the modification in the curriculum to use clay," Pierucci said.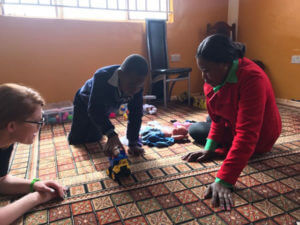 These small changes, which focus on natural application of readily available resources like clay, is one focus for Pierucci as she works on writing a second grant, which will allow her to continue the education of Zambian graduate students and help train individuals there with a program that is culturally relevant.
Pierucci said her main goal is to help parents and caretakers feel empowered.
"Think Doctors Without Borders (a nonprofit program) but providing for children who have difficulties communicating with the world around them," she said.
In addition to her research efforts in Zambia, Pierucci also coordinates St. Mary's University students to work at the San Antonio Brighton Center, an early intervention agency which provides home-based services, such as occupational therapy in speech to children.
"Our defining moments are in the simple everyday moments," Pierucci said. "I'm privileged to be part of our world-changing institution at St. Mary's."