As a board-certified commercial real estate lawyer, Sara E. Dysart (B.A. '74, J.D. '81) is as comfortable making deals as she is baking up shellfish at Fiesta Oyster Bake year after year.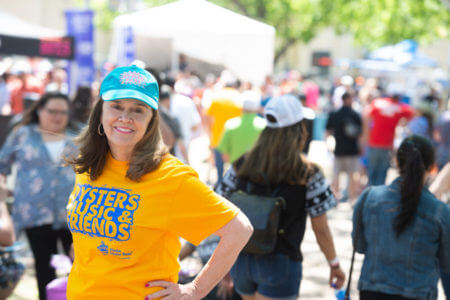 During her time as a student in the St. Mary's University School of Law, she made one of the most important deals of her career — with herself.
"When I first got into law school, it was very intimidating. But I made a deal with myself. I was going to do the best I could and accept the results. If I didn't pass, I would live with that," Dysart said.
The thought process has guided her since, continuing to give clients her best.
She has been a commercial real estate lawyer for more than 20 years, but she studied a number of subjects and worked many jobs to get there.
For about 11 years, Dysart went to school and worked simultaneously. As an undergraduate transfer student at St. Mary's, she worked at a Trailways bus station. During her master's program in counseling at the University of Texas at San Antonio, she also taught at John Jay High School and was a lifeguard.
Despite being a real estate lawyer who experienced the housing market crash in the early 1980s, Dysart considers teaching the most difficult job she ever held — and good preparation for law school.
"When I went to law school, I was prepared to treat it like a job," Dysart said.
Her familiarity with St. Mary's also helped. When she transferred from the University of Texas at Austin after her sophomore year, she remembered immediately feeling "at home."
When her father became terminally ill at the beginning of her senior year and died six weeks later, students and professors were kind and understanding, she said.
"I truly love St. Mary's, and I am really thankful it was there for me," said Dysart, who was honored this spring with a St. Mary's University Distinguished Alumni Award.
Whether she's judging law student competitions, making presentations at the law school, serving on the law school's Board of Visitors, or dishing up shellfish at Oyster Bake — which she has done for more than two decades — Dysart is happy to give back.
"I'm a big supporter of St. Mary's," she said. "That's one reason why being selected as a distinguished alumna meant so much to me. I was being honored by my peers who give back so much."