When the Syrian refugee crisis seemed to reach its peak, future St. Mary's University School of Law student Annie Bright felt compelled to do something.
One particular scene shown on TV struck her: a mother and her children gathering necessities from the remains of an apartment, badly damaged by a bomb.
One of the children came to her mother with her arms full of stuffed animals. But her mother made her put all but one back because they weren't hers.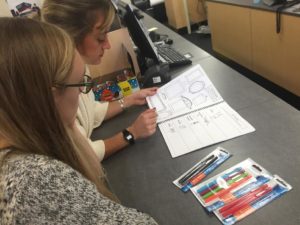 "It just broke my heart, on the part of the mother and the child. The news also showed scenes of some older children teaching the younger kids, as if they were in school," said Bright, a first-year J.D. student. "The kids just want to do normal kids things — play and learn, and the parents want the same for them."
Learning about their experiences moved her to create an art book for them titled, I Made This.
"I thought about what I liked when I was a kid and what I was capable of offering them. I am nothing near an artist, but I've still always loved sketch books and journals, like most kids," Bright said. "I also thought about the importance of having your own little treasures when you're young — the things that you work on, that belong to you."
Before coming to St. Mary's University, Bright taught at a high school in Spain, and then worked in television production in Los Angeles. She quit her job to work on the art book full time.
A friend introduced her to Adobe Illustrator. A professor of positive psychology at UCLA advised her on which activities would be best for building a child's self-esteem. Three artists, California-based visual artist Allison Kunath, Brazilian illustrator Thiago Bianchini and French graffitist ZDEY donated their work. A student from the University of Texas translated the book into Arabic.
The experience brightened her outlook toward people.
"I don't think there was a single person during the entire process that said, 'I don't think I can help.' Everyone either helped me directly or showed me someone who could," Bright said.
Bright raised more than $3,000 on CrowdRise, a fundraising website, to print the book.
She printed 100 books in English and 50 in Arabic, and split them between the Refugee and Immigrant Center for Education and Legal Services and the Refugee Services of Texas. She also made a PDF version available to a few organizations, including the Karam Foundation.
"I'm happy to share the book digitally with any project and anyone who may find it useful, and I'm happy to share printed versions to the extent the project can afford it," Bright said.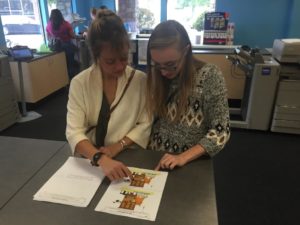 As she was working on the art book, Bright became more in-tune with what was occurring in the world around her. When the U.S. announced it was going to take in only 10,000 Syrian refugees in 2016, she realized she could do even more than the book project to help.
"I was putting too small a Band-Aid on a wound that needs surgery," Bright said. "I thought, 'God, knowledge of the law would really help these people.'"
She took the in December 2016, and was accepted into the St. Mary's J.D. program in 2017.
As a law student, Bright continues to be involved in her community. She works in the ID Recovery Project for Haven for Hope and is interested in joining the Human Rights and Immigration Clinic in her second year.
"I'll only be in San Antonio for three years. It seems like I'm benefiting a lot from the community, and it seems almost inappropriate to get these benefits from the community and not be engaging in it," Bright said. "I'm part of the community. I have a role."