In her first year of study at the St. Mary's University School of Law, Chief Justice Sandee Bryan Marion (J.D. '80) of the Fourth Court of Appeals almost dropped out.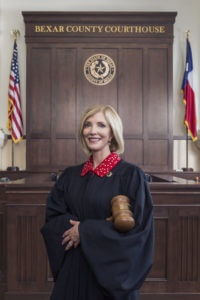 She had awful anxiety about public speaking.
"I began to think I had made a mistake about coming to law school," Marion recalled. "When I was called on to speak, I would shake from head to toe."
But her father encouraged her to stay, and she ended up doing well on her final exams. She finished her first year, learning a valuable lesson in the process.
"It taught me the importance of preparation," she said. "If you do all the right work, fear shouldn't stop you."
The shy law student has developed a reputation as a straight-shooting jurist who is meticulous in her interpretation of the law and as a leader of the Fourth Court of Appeals, which hears civil and criminal cases from lower courts in 32 counties spanning South Texas and the Hill Country.
This past spring, Marion was also elected the chair of the Council of Chiefs, or the "Chief of Chiefs," as it is more commonly referred to by the council. The council — composed of the chief justices of all 14 Texas appellate courts — meets bimonthly to discuss court budgets, court management and legislative needs. The chair is appointed by the council for a two-year term and serves as their spokesperson before the Texas Legislature.
"It's a whole new area for me," Marion said. "It's very different work from what I've been doing all these years."
School of Law Dean Stephen M. Sheppard, J.S.D., was unsurprised when he learned of her new role.
"Sandee Bryan Marion is exceedingly accomplished at helping people who are awfully bright work together with a minimum of fuss and conflict," he said.
Former Fourth Court of Appeals Chief Justice Catherine Stone (J.D. '82) also served as "Chief of Chiefs" from 2011 to 2013 and said it is quite an honor to be selected.
"Since there are only 14 people who make the decision, I think it's pretty well-vetted," Stone said. "They want someone who can communicate well with their fellow chiefs and put their trust in you."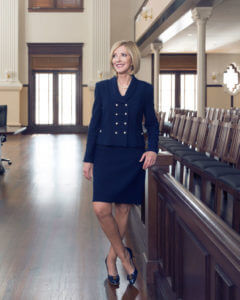 Marion has spent more than a decade on the Fourth Court of Appeals and was elected Chief Justice in 2015. During her tenure, she has been part of a relatively rare all-female appellate court three times.
"I think I've been very lucky. There were a lot of doors opened by women before me," Marion said. "Everyone has an obligation to reach back and try to help someone else along."
Stone was on the court for two of those breaking-the-glass-ceiling moments too.
"It was rewarding for citizens to see that we were doing our job and … doing it well," Stone said. "It felt good to meet younger women lawyers and have them be inspired by this."
St. Mary's Law graduates like Marion, Stone and former Fourth Court Chief Justice Alma Lopez (J.D. '68) have perpetuated the culture of leadership and cooperation on the court, Sheppard said.
"This is a position that sets the judicial agenda for law in our area. To have someone not only trained in law as a St. Mary's lawyer, but instilled with an underlying sense of justice and care because of what we believe, is significant," Sheppard said. "Each and every one of them has demonstrated these values on the bench."
Lopez said the values she learned from St. Mary's Law formed a big part of her professional life.
"The law school taught us to always be ready and, most importantly, to be good stewards to the community and to do the best we can," Lopez said.
Marion's desire to help others prompted her and her husband, Homero R. Garza, to establish the William F. Bryan Endowed Law Scholarship at St. Mary's Law in 2009. They created the scholarship — named in honor of Marion's father — to help students of lower socioeconomic backgrounds attend law school.
But before Marion created the endowment, she was already quietly trailblazing a path for others. Right out of law school, she was offered a job in Boerne. Marion said the position for a woman attorney was a first in Boerne and Kendall County.
Unsure of the challenge that would pose, she asked Professor Emeritus of Law Aloysius Leopold, J.D., "Do you think they're ready for a woman lawyer?"
"They are ready for you," she remembers him answering.
With nothing but gratitude for the career that's followed since, Marion said, "I've followed some pretty big heels, and to be able to serve after Chief Justice Catherine Stone and Chief Justice Alma Lopez after having learned so much from them is a gift."