by Jasmine DeLeon (B.A. '11, M.A. '15)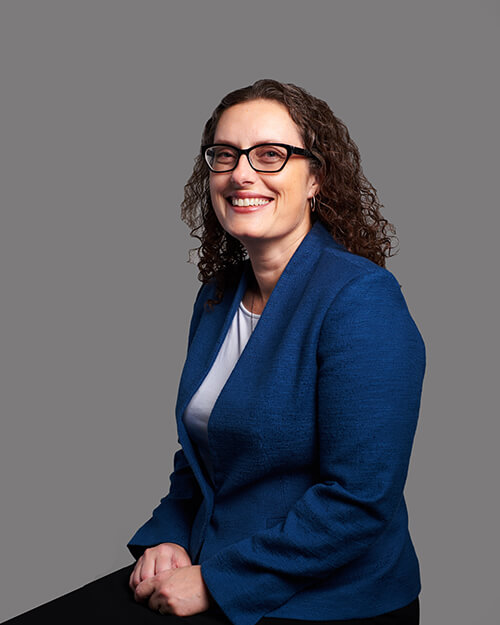 Arguing cases in immigration court. Visiting clients detained by U.S. Immigration and Customs Enforcement. Filing court motions. Building evidence. Reuniting families. Understanding the human beings behind the immigration debate.
Students in the St. Mary's University School of Law's semester-long clinic course on immigration and human rights taught by Erica B. Schommer, J.D., get firsthand experience with these legal concepts and much more.
As a Clinical Associate Professor of Law, Schommer takes J.D. students into immigration courts and detention centers to work with asylum seekers by serving as attorneys.
"Immigration law is very complex," Schommer said. "Many do not understand how difficult it is for people to seek asylum in the U.S."
For Schommer, educating law students and the public is key to navigating this convoluted legal ground.
While media outlets continue to report on immigration issues along the U.S.-Mexico border and Archbishop of San Antonio Gustavo García-Siller, M.Sp.S., calls for immigration reform, Schommer works to make a difference inside the classroom and beyond.
Each case offers new lessons from which to learn, including the most recent family separation cases she worked on this summer.
Schommer's interest in immigration sparked during her own immigration clinical experience as a University of Texas at Austin law student.
For her entry into immigration law, Schommer helped a woman from Africa with her asylum case.
"I was able to prepare her case, interview her and get a decision, all within one semester," Schommer said. "I saw the immediate result of the impact on an individual that the work could have."
That first client kept in touch with Schommer, sharing her milestones — from becoming a citizen to seeing her daughter graduate.
Schommer also remains involved by sharing her take on immigration law with various media outlets from PBS's NewsHour to the Texas Observer, while also teaching students to find their vocations.
Third-year St. Mary's J.D. student Pilar Martinez said her impactful first-year clinic experience inspired her to continue.
"I applied for clinic because I want to help people, especially those who cannot afford legal representation," Martinez said. "I feel more prepared for practice than I would have been had I spent the year working as a law clerk researching immigration law issues and drafting memoranda."
After the clinical program, students often remain involved by dedicating their profession to immigration law or supporting organizations, Schommer said.
"Educating law students — allowing them to be a part of detained cases firsthand and serve the community — matches the University's mission," she said.