March 1, 2018
St. Mary's Law moot court competitors have paved the way for a chance at an unprecedented third consecutive American Bar Association National Championship.
Two St. Mary's teams competed at the ABA's National Appellate Advocacy Competition in New York City from Feb. 22 to 24. The team composed of third-year J.D. students Sophia George and Gary Hillier and second-year J.D. student Bobby Biedrzycki placed second overall.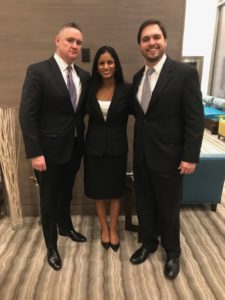 They were crowned regional champions in the Manhattan Regional, which consisted of schools such as Cornell Law School, Georgetown Law, Texas A&M University School of Law and the University of California, Los Angeles.
Biedrzycki was also recognized for crafting the second best brief at the Manhattan Regional.
The team's performance qualified St. Mary's for the national finals in Washington, D.C., which will be held from April 5 to 7.
"Successes like this are a constant reminder of the extremely high caliber of law students we have at St. Mary's and I am very lucky to have this opportunity to coach them," said Head Coach Ricky J. Poole (J.D. '90).
The ABA NAAC is the largest moot court tournament in the United States, with about 200 law schools competing to make it to D.C. every year.
The National Alternative Dispute Resolution Team also returned home victorious after competing in the ABA's National Mediation Regional Competition in Miami for the first time. Not only were two of the top four spots taken by St. Mary's, but both teams then proceeded to sweep the tournament.
The first place team consisting of second-year J.D. students William Biggers and Amy Donaldson walked away as regional champions, knocking out former champions from South Texas College of Law. The second place team, second-year J.D. students Jordan Jentz and Gilbert Vasquez, finished the tournament undefeated.
One judge commented that St. Mary's performance in this competition was "near perfect."
Head Coach Emily Landon said she was elated at the comments the teams received during the competition.
"Having been the National ADR Team's first mediation competition ever, the sweep definitively announced St. Mary's National ADR Team as an ADR authority on a national stage," Landon said.
Both teams will be competing in the ABA Mediation Finals in D.C. in April.