by Alex Z. Salinas (B.A. '11)
For many kids, the thought of going to the dentist is enough to bring shivers down their spines. For a young Millie Garcia, it only confirmed what she wanted to become when she grew up.
"My little sister is asthmatic, and the medication she used to take caused a lot of problems with her teeth," Garcia said. "The same was true for me, so we were in the dental office quite a bit."
While the frequent trips to the dentist inspired Garcia, there was something else that stirred her.
"Back then, I noticed there weren't many Hispanic women dentists," she said. "That got me thinking."
Garcia was born in Brownsville, but her mom and two younger siblings frequently moved back and forth between there and Mexico. It wasn't until Millie was in fifth grade when her family settled in Dallas.
"It was a bit of a culture shock," she said. "There were a lot of times I would have to explain (to my mom) how things worked, like Thanksgiving, for example."
By the time Garcia was a junior in high school, she said she was set on pursuing dentistry. She applied to many colleges and was accepted into a number of bigger state schools. But there was one school that stood out for her: St. Mary's University.
"I'd read that the St. Mary's student acceptance rate to dental schools was phenomenal, so I decided to take a tour there," Garcia said. "Afterwards, there was something about St. Mary's — the small campus, the friendly people — that I knew I wanted to be a part of."
During her freshman year at St. Mary's, Garcia joined the Pre-dental Society, which she described as a "turning point" for things to come.
"The peers I met led by example," she said. "I wanted to be just like them."
The next step she took toward achieving her dream was applying to the Dental Early Admission Program (DEAP), an intensive program where students earn a Bachelor of Arts in Combined Sciences degree from St. Mary's in three years and matriculate into the University of Texas Science Center at San Antonio Dental School for a final four years of study.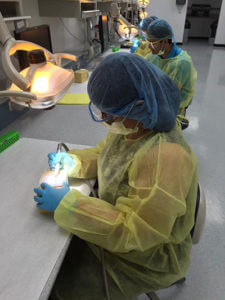 Garcia was accepted into DEAP the summer going into her sophomore year. She knew there would be plenty of work ahead, but she was thrilled.
She described DEAP as a sort of "training camp for dental school."
Now, after having completed most of her advanced Biology courses at St. Mary's, the senior is preparing for the next stage.
"I've had so much support, from family and friends to the faculty who are an excellent resource with their backgrounds and rich life experiences," Garcia said.
On top of her course work, Garcia has also served as the secretary and, currently, the vice president of the Pre-dental Society.
But her work doesn't stop there.
Every Thursday evening, Garcia devotes a couple of hours to mentor a group of students in the Biology Living-Learning Community (BLLC) in Founders Hall. She lovingly refers to the group as her "Blickers."
"I know what they're going through, so I try to make it as easy and not stressful for them as possible," she said. "I like to have an open personality and keep things fun."
Carly Friedman, Ph.D., Pre-health Professions Adviser, recently witnessed Garcia's impact.
"There was a prospective student from a small town in Texas who was visiting campus," Friedman said. "She was interested in the pre-dental program and was a little overwhelmed. I asked Millie to come by, and she was so warm and supportive and sweet. The student and her family immediately bonded with Millie. All I could do was watch.
"If that student decides to come to St. Mary's, it will be because of Millie."
Garcia also gets phone calls from her high school in Dallas to come back and speak to students about her experiences as a Latina college student who came from a single-parent household and has made the most of her opportunities.
Garcia, who will become the first in her family to graduate from college, said she has been told by other family members that they want to go to college because of her. And when they too need help with homework, Garcia is more than happy to put on her mentor cap.
"I didn't know how much of what I'm doing has impacted people," she said. "Becoming a role model without thinking about it is an opportunity a lot of kids have that they may not think they have."
Ultimately, Garcia said she wants to use her education to give back to her community — wherever that may be in the future.
"I want to help lower-income and minority families, of course, but really, I just want to help people," she said.