by Alex Z. Salinas (B.A. '11)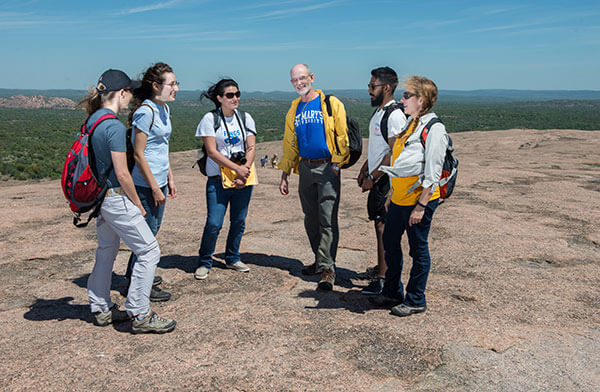 Once a semester, the Department of Physics and Environmental Science at St. Mary's University takes students from its Introduction to Geology class to Enchanted Rock — a massive, dome-shaped pink granite batholith near Fredericksburg.
During the field trip, students observe the scenic Texas Hill Country while hiking up the 425-foot Enchanted Rock.
The tradition began in 1982, when Geology professor David Fitzgerald, Ph.D., took his class to the historic landmark. Since his retirement, other professors have followed in his footsteps.
"I think this field trip is a favorite because students get to see where fossils in our area actually come from, and the studies at Enchanted Rock allow them to see that the landscape around them is changing," said Evelynn Mitchell, Ph.D., Associate Professor of Environment Science. "Students also seem to enjoy climbing the big rock and the view, where they see the difference between the Edwards Plateau and the granite batholith."
Once atop the windy summit of Enchanted Rock, there's a palpable sense of awe from students. On a clear day, the view of the oak tree-studded countryside is breathtaking, and wildflowers, cacti and other plants surrounding the trails add to the postcard-like scene.
For junior Environmental Science major Samantha Perez, who went on the field trip her freshman year and tagged along again in March, the experience has been beneficial to her as a future scientist.
"The Enchanted Rock field trip has given me a better understanding of how to observe the environment with a critical eye," Perez said. "I have always had a great appreciation for nature and the outdoors; however, it has grown significantly for those working in the field of environmental science."
Grant Khan, a sophomore Environmental Science major, shared a similar sentiment.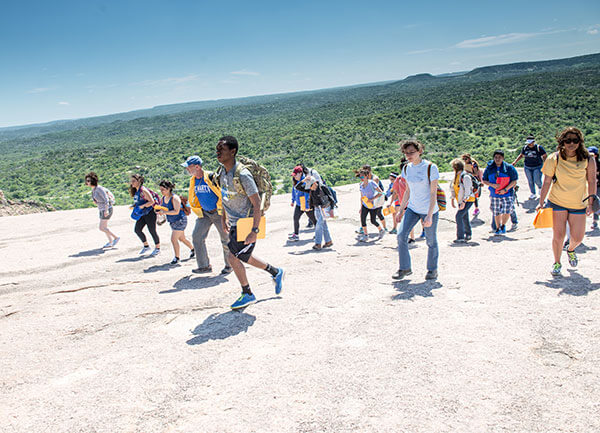 "Participating in trips such as these allows students the experience to learn, implement and refine techniques for collecting data in the field," he said. "The greatest thing these trips have done for me personally was offer an opportunity to connect concepts in class to ecological and geological concepts that are especially unique to San Antonio."
Melissa Karlin, Ph.D., Associate Professor of Environment Science, said it's visualization of classroom lessons — "letting students see the granite dome or showing them water percolating through limestone rock or letting them hear the calls of two male Golden-cheeked Warblers proclaiming their territory" — that continues to drive the decades-long tradition of Enchanted Rock field trips at St. Mary's.
"These experiences have a much higher impact on the students' learning process and may actually excite them to learn more," Karlin said. "Many of our students have never been hiking or visited a state park, so they certainly come away with a greater appreciation of nature."