January 23, 2017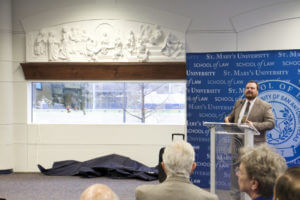 The St. Mary's University School of Law celebrated the dedication and blessing of the "Christ Among the Doctors" sculpture on Saturday in the Law Commons of the Sarita Kenedy East Law Library.
"Showcasing art in our environment inspires students, faculty and graduates to think about what we do and why we do it," said Stephen M. Sheppard, J.S.D., Dean of the School of Law. "It's an opportunity for the law school to celebrate the wonderful mission that we're given."
The sculpture by Andrew Wilson Smith is funded by a gift from John and Carole Tanner of Lake Bluff, Illinois. The plaster bas-relief depicts the scene from Luke 2:41 in which a 12-year-old Jesus is found sitting among the teachers in the temple courts of Jerusalem.
After the unveiling, Smith discussed the theology and aesthetics of the piece.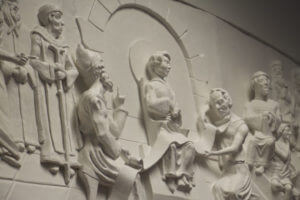 "Ever since I was a little kid, I liked this specific scene in Catholic imagery of Christ among the doctors," Smith said. "I was never on the closest of terms with my teachers as a little boy, so the idea of being a kid and being the center of attention in the classroom and letting all of these respectable adults have to take their place to the side and listen to what the kid is saying always appealed to me."
"There is so much room in this story for multiple figures, lots of different action taking place," Smith continued. "There's just such a rich treasure trove of paintings and sculptures in the Catholic tradition that celebrate this scene."