October 4, 2017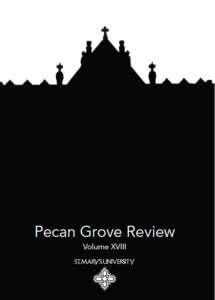 St. Mary's University's Department of English and Communications Studies will unveil its literary magazine, Pecan Grove Review XVIII, at The Twig Book Shop on Wednesday, Nov. 15.
The Pecan Grove Review now offers St. Mary's alumni the opportunity to submit their written works. Including former students offers them the chance to continue fostering their creativity and to reconnect with their alma mater.
The 6:30 p.m. event is free and open to the public.
The Pecan Grove Review gives students the opportunity to understand and obtain realistic publishing experience. In 1993, Sister Ann Semel, then-chair of the English and Communication Studies Department, asked faculty member Diane Gonzales Bertrand – now visiting lecturer and writer-in-residence at St. Mary's – to start a literary magazine.
The Pecan Grove Review's first staff members were students from Bertrand's "Intro to the Creative Process" class, and she became its first faculty adviser. The Department of English and Communication Studies resides within the School of Humanities and Social Sciences at St. Mary's.
The Twig Book Shop – located in the Pearl Brewery, 306 Pearl Parkway, Suite 106 – is the only independent bookstore in San Antonio. It's a venue for local and national poets and authors, and the launch event gives students an opportunity to read in a professional space.
"We believe that the creative spirit sparked at St. Mary's encourages positive change in our homes, our communities, and the world long after we've left the comfort of our campus," Romo said. "We invite alumni to submit their poetry, short stories, creative nonfiction, and all other forms of literary work for publication for the PGR 2017. At St. Mary's, you are always a part of our family."