July 18, 2017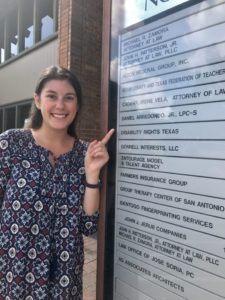 The St. Mary's University School of Law has increased the number of Summer Public Interest Fellowships available to law students to encourage a future generation of lawyers committed to public interest careers.
"For the past 90 years, St. Mary's Law and our students have taken very seriously our obligation to address the justice gap and to serve community members in need," said Stephen M. Sheppard, J.S.D., Dean of the School of Law. "Expanding our ability to offer Public Interest Fellowships paves a bit more of the pathway for our law students to fulfill our Catholic Marianist mission: To educate lawyers for service, justice and peace."
With the help of a grant from the University to the School of Law's Office of Career Services, the number of students participating in Public Interest Fellowships this summer increased from one to five. There is an overwhelming demand for legal aid services and the fellowships aim to help meet that need by encouraging students to pursue public interest legal careers, said Robin Thorner, J.D., Director of Career Services for the School of Law.
The fellowship provides a stipend of up to $5,000 to students taking a voluntary legal position, without which students might not be able to afford to relocate for a summer position. It also enables the School of Law's Office of Career Services to develop stronger working relationships with nonprofit legal organizations throughout Texas, which can lead to post-graduate opportunities.
"At St. Mary's Law, we strive to develop law students committed to public service and the common good," Thorner said. "These fellowships reflect the values of our institution in the community. They not only benefit the individual grantees and their clients, but enhance the school's reputation, admissions and the employment numbers."
This year's fellowship recipients said the financial assistance gave them the ability to learn the law while giving back.
"Helping grade-school students gain the education they deserve has been the best part about my internship thus far," said Hannah Cramer, who is interning for Disability Rights Texas this summer. "I love getting to clerk for an organization that works with issues I feel passionate about."
Law student Mark Garza said the fellowship award "has removed a huge burden" and enabled him to work at the organization Aid to Victims of Domestic Abuse.
"Knowing that I can be rewarded for doing something for those who are less fortunate is a great feeling," Garza said. "The internship has provided me a way I can reach out and help others, and the fellowship has given me the resources I need to do so at a high level."
Thorner said she hopes the work of this larger fellowship group "will help us create more momentum among alumni so that we can build a fund for future summer fellowships in both public interest and public service positions."
Those interested in helping create fellowships for students interested in public interest and public service can donate to the Summer Public Interest Fellowship Fund, which was launched with contributions from the law school's GOLD (Graduates of the Last Decade) Council members and other recent law alumni.