June 22, 2017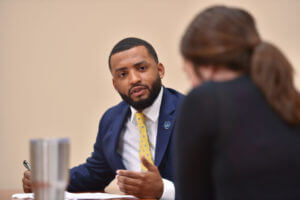 Two St. Mary's University School of Law alumni – the Honorable Mary Anne Bramblett and Coll Bramblett of El Paso – have donated $1 million to endow the second year of the School of Law's innovative legal skills curriculum, called the Law Success Program.
"Mary Anne and Coll Bramblett have set a precedent for future generations of St. Mary's lawyers – both through their careers and their continued commitment to the school," said President Thomas Mengler, J.D. "This outstanding donation to the groundbreaking Law Success Program will expand the holistic approach to legal education designed by Dean Stephen Sheppard and his faculty in the School of Law."
The unique Law Success Program provides law students with three years of personalized instruction and testing on the skills that form the basis of law school exams, the bar exam and their legal careers.
"After receiving their legal education at St. Mary's Law, Mary Anne and Coll Bramblett have left their mark on the state's legal profession," said Stephen M. Sheppard, J.S.D., Dean of the School of Law. "We are humbled and grateful that they've also chosen to leave their mark on the School of Law. Their generous donation to the Law Success Program will empower future generations of servant leaders in law; for Texas, America and the world."
The second year of the program, now named the Bramblett Second-year Success Program, enables law students to gain advanced skills in the areas of technical reading, legal writing, editing, analyzing arguments, and espousing strong ethics of work, service and justice.
Law Success Instructors will individually evaluate second-year law students in each skill category and provide them with data-driven approaches for improvement. Second-year students will also have access to workshops, counselors and follow-up assessments.
"The second year of law school is a key time for law students, with more complex legal questions that require more sophisticated legal analyses. First-year reading, writing and analytical skills are no longer sufficient, and law students must hone their abilities in order to excel," said Michael Barry, J.D., Assistant Dean of the School of Law with responsibility for the creation and implementation of the program. "The Brambletts' generous gift will allow St. Mary's to develop programs that reveal second-year law students' individual strengths and weaknesses – and then develop personalized remediation plans so that each student can be successful."
The Bramblett family has had a longstanding relationship with the School of Law. Coll and Mary Anne Bramblett met while attending the School of Law and earned their Doctors of Jurisprudence in 1980 and 1981, respectively.
"We wanted to give back to our school because they gave so much to us," Mary Anne Bramblett said. "They gave us the tools to have a great life."
Mary Anne Bramblett served as judge of the 41st District Court in El Paso County from 1989 until retiring in 2012. She was the first woman elected to a district court in El Paso County.
In 2003, the Criminal Section of the State Bar of Texas named Mary Anne Bramblett its Outstanding Jurist. She is also the St. Mary's University Law Alumni Association Chapter President for El Paso and appears in St. Mary's Constitution Day video, which promotes understanding of the Constitution among the state's high school students each year.
Coll Bramblett built a career as a personal injury attorney and is a member of the law school's Board of Visitors.
"I would not have been a lawyer today if it wasn't for St. Mary's. I know many lawyers out there in the same boat. They are lawyers today because St. Mary's gave them that opportunity," Coll Bramblett said. "That's why I'm going to step up and help St. Mary's, because they gave me an opportunity."