June 6, 2017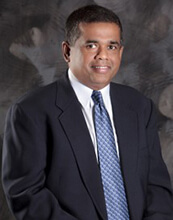 St. Mary's University Marketing Professor Mathew Joseph, Ph.D., has been awarded the 2017 Lifetime Achievement Award by the Marketing for Higher Education Special Interest Group (SIG), within the American Marketing Association.
Joseph serves as vice president of the Higher Ed SIG and is a founding member.
"I am truly honored and humbled to receive this lifetime achievement award," said Joseph, Emil C.E. Jurica Distinguished Professor of Marketing in the Greehey School of Business. "The American Marketing Association is the largest marketing association in the world. I would like to dedicate this award to all my students who continue to inspire me."
The Lifetime Achievement Award honors a marketing scholar who has demonstrated distinct accomplishments and dedication to higher education in the marketing discipline, according to the website. Each year, Higher Ed SIG calls for nominations, and a thorough review is conducted by a panel of judges.
Higher Ed SIG will present this award to Joseph at the AMA Summer Educators' Conference Aug. 4-6 in San Francisco.