April 13, 2017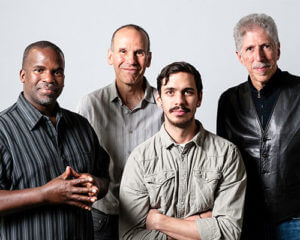 The Grammy Award-winning Yellowjackets jazz quartet will headline the 55th annual Fiesta Jazz Festival, April 28-29 at St. Mary's University.
Enjoy the sounds of great national, regional and local artists this Fiesta season at this free event, one of the oldest jazz festivals in Texas. It is sponsored by the St. Mary's University Music Department, the Fiesta San Antonio Commission and the John L. Santikos Charitable Foundation of the San Antonio Area Foundation.
Yellowjackets, who trace their origins back to 1977, are still going strong with original members Russell Ferrante on piano/keyboards and Will Kennedy on drums, as well as longtime member Bob Mintzer on saxophone and new member Dan Alderson on electric bass.
The group performs a wide array of jazz flavors, evident on its newest album "Cohearance." The quartet has produced 26 albums over the years, winning two Grammy Awards and receiving nominations for 15 more.
Friday's concerts will begin at 1 p.m. in the Pecan Grove with performances by South Texas university musicians and San Antonio jazz artists.
Schedule of events for Friday, April 28 – St. Mary's University, Pecan Grove
1-6 p.m.: University Invitational, featuring musicians from the St. Mary's University Jazz Combo, A-Jam (Alamo Jazz Allstars Mentorship) , the University of the Incarnate Word Jazz Ensemble, the UTSA Jazz Ensemble and the St. Mary's University Jazz Orchestra
7-8 p.m.: Morgan King Quartet
8:30-10 p.m.: Yellowjackets
On Saturday, the Fiesta Jazz Band Festival will run from 8 a.m. to 5 p.m. in the University Center on campus. Dozens of Texas middle and high school jazz ensembles will take the stage in front of a panel of jazz educators, who critique the acts and award trophies for outstanding performances.
Yellowjackets will hold a jazz clinic at noon in the University Center. The Jazz Orchestra of San Antonio will perform from 5 to 5:45 p.m.
All events are free and open to the public. Parking is also free. Food and drink will be available for purchase. Contact jazzfest@stmarytx.edu or 210-436-3421 for more information.