March 31, 2017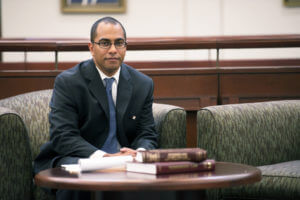 Should college athletes in the midst of NCAA March Madness be compensated for their performance? Professor of Law David Grenardo at the St. Mary's University School of Law thinks so.
His article outlining a model to pay college football and men's basketball players has made its way into the top 10 most downloaded articles on Social Science Research Network's "Education Law: College and Graduate Education" category.
Grenardo, a former Rice University football player, advocates that the NCAA and its member institutions should adopt the Duke Model of compensation.
"One cannot dispute that education for college athletes possesses value," Grenardo writes. "Nevertheless, some athletes contribute to a growing industry of major college athletics that generates billions of dollars of revenue. Those athletes who create such a valuable product should be able to earn compensation for their efforts as every other American is entitled to do."
Under the Duke model, an athlete would receive up to three types of compensation:
The base compensation system would compensate football athletes based on how many games a player started on offense or defense and whether they were a starter, second-team or third-team player. Similarly, in men's basketball, athletes would be compensated based on how many minutes each player averaged during a season.
Athletes would be entitled to compensation based on their athletic achievements as statistical leaders or external honors (i.e. Heisman Trophy Winner, National Player of the Year, All-America First Team).
Athletes would be entitled to compensation based on their academic performance. This approach further encourages athletes to perform well in the classroom as well as on the field.
College athletes create a product in a multibillion-dollar business that relies on their skill, dedication and performance to thrive, asserts Grenardo in his article. The Duke Model provides a starting point for conversations about developing a system for compensating college athletes in a fair and reasonable manner, according to the piece.