September 12, 2017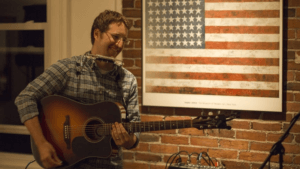 Singer-songwriter Kevin Heider – whose folk-rock music can be heard in film, theater and TV productions – will soon give the St. Mary's community "The Gift of a Song."
Heider will perform on campus Wednesday, Sept. 20, as part of the Catholic Intellectual Tradition Lecture Series. He'll serenade the lunch crowd at 11:30 a.m. in the University Center atrium, and he'll play again at 7 p.m. in Conference Room A of the University Center. In his performance, he will explore the depth and meaning of the human spiritual journey through music.
Heider has a degree in Catholic Theology from Franciscan University of Steubenville (Ohio), which has greatly influenced his life and work, he said. He got his big break by winning Gibson's "The Way I Am" contest on MusicNation.com in 2008. Since, he has released five albums, including a double album, and has traveled the world performing, producing and recording. He and his family live in Dayton, Ohio.
Those traveling to campus are asked to park in Lot D, near the NW 36th Street entrance, or Lot H, near the Culebra Road entrance. For directions, visit www.stmarytx.edu/map.
The Catholic Intellectual Tradition Lecture Series is a free, annual series featuring men and women who have shaped the Catholic intellectual tradition at the heart of the educational enterprises at St. Mary's. The theme for the 2017 series of four lectures is The Art of Faith, and features speakers representing various art forms they use to express their faith. For more information, call 210-431-8094.