February 23, 2017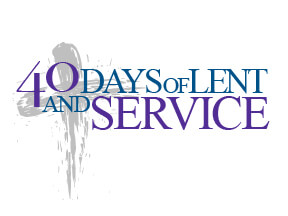 University collaborating with Catholic Charities of San Antonio
Hundreds of St. Mary's University students will volunteer across San Antonio on Saturday, March 4, for the Continuing the Heritage event – part of Catholic Charities of San Antonio's second annual "40 Days of Service" campaign to promote service during Lent.
On March 2, Archbishop Gustavo García-Siller, Catholic Charities President and CEO J. Antonio Fernandez, and Superintendent of S.A. Catholic Schools Marti West will help kick off the 40 Days of Service effort with St. Mary's President Thomas Mengler.
The group, as well as St. Mary's students and staff, will volunteer from 1-3 p.m. at the Guadalupe Community Center (1801 W. Cesar E. Chavez Blvd.), a facility that provides support and advocacy services to those in need.
Continuing the Heritage
The biannual service day brings together University students, faculty, staff and alumni to volunteer for community projects, such as graffiti abatement, yard work, packaging and delivering food and clothing for the poor, and working with children and animals.
Since 2003, about 10,000 volunteers have offered more than 50,000 hours to organizations that provide much-needed services throughout the area. Online registration began Tuesday, Feb. 21.
San Antonio volunteers will gather on the Flex Field at The Park at St. Mary's at 8:15 a.m. for an opening ceremony, which includes breakfast and prayer, before beginning their afternoon of service. From 10 a.m.-1 p.m., they will serve at sites including:
Dream Center at 2903 West Salina St. As many as 75 volunteers will walk the neighborhood cleaning yards, covering graffiti and performing minor home repairs.
Basilica of the National Shrine of the Little Flower's Garden of St. Therese
at 1111 Culebra Road. Volunteers will assist with a community garden.
Catholic Charities at 1801 W. Cesar E. Chavez Blvd. Volunteers will create space for incoming food, then unload, sort and stock food.
San Antonio Food Bank at 5200 W. Old US Highway 90. Students work together to sort and/or pack produce, nonperishable foods and household items, preparing them for distribution.
The DoSeum at 2800 Broadway. Students will support the engagement of guests in the galleries. They will also help support the "Share the Love" program.
St. Mary's University Community Garden Students will help prepare a neighborhood community garden on 36th Street.
More about 40 Days of Service
In the spirit of Pope Francis' "Year of Mercy" and the Lenten season, Catholic Charities and the Catholic community of San Antonio joined together in 2016 for a new campaign called 40 Days of Service. The goal is for every Catholic school and university in the archdiocese to commit to service during Lent and for participants to have a meaningful service experience by offering their time and talent to assist people in need.
Service opportunities include mentoring, organizing donation drives, stocking food donations, tutoring children, distributing food, painting, landscaping and assisting veterans and seniors. For more information on service activities, contact Catholic Charities at 210-222-1294 or email Paul Stevens at pstevens@ccaosa.org.