October 12, 2016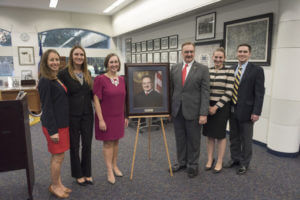 The St. Mary's University School of Law honored the success and contributions of Chief Judge Emeritus David Alan Ezra (B.B.A. '69, J.D. '72) with a portrait unveiling this month in the Sarita Kenedy East Law Library's Law Alumni Room.
"The School of Law is proud of all that Judge Ezra has accomplished throughout his distinguished career," said Stephen M. Sheppard, J.S.D., Dean of the School of Law. "Judge Ezra has long been a leader among our alumni, and his esteemed career showcases his commitment to the St. Mary's tradition of public service. We are greatly honored to hang his portrait among those of our most notable alumni."
Ezra is the former chief judge of the United States District Court for the District of Hawaii, and is a longtime member of the Judicial Conference of the United States. He is the youngest federal judge appointed in Hawaii and has been designated by the chief justice of the United States for special permanent assignment to the Western District of Texas to assist with the high caseload.
Among many notable achievements, Ezra was awarded the St. Mary's University School of Law Rosewood Gavel Award in 2007 and the St. Mary's University School of Law Lifetime Achievement Award in 2013. Ezra also teaches, participates in and frequently serves students and faculty of St. Mary's as an adviser and judge at moot court competitions and other programs.