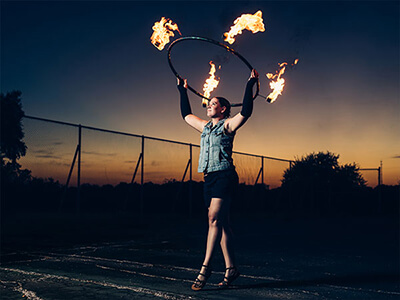 It might look dangerous, but for Sherry Clegg, J.D., hula hooping with the added element of fire is downright relaxing.
Clegg, a Law Success Instructor at the School of Law, said fire hooping helped keep her sane during her own law school experience.
Clegg first witnessed a flaming hula hoop performance at a festival when she was 18. She started hooping more seriously herself after graduating from college and taking a class at a dance studio.
The first time she added a combustible element was during law school in Lubbock, where she found a community of hoopers and other flow artists, which includes jugglers.
"The added element of (or at least the appearance of) danger makes it pretty enticing," Clegg said. "But once you do it, it's really meditative. The sound of the fire whooshing around you blocks everything else out. And by focusing solely on the movement, your brain lets go of all other thoughts."