by Alex Z. Salinas (B.A. '11)
Small-town junior Biology major Bianca Romo has done big things in the few years she's been at St. Mary's University.
The Artesia, New Mexico, native joined the Pre-MARC Program during her freshman year and researched at Michigan State University; was accepted into the prestigious MARC U*STAR Program earlier this year and spent her summer at Johns Hopkins University studying fruit flies and cell fusion as they relate to human muscle repair; and was one of seven St. Mary's students who presented at the Annual Biomedical Research Conference for Minority Students in Seattle in November 2015 where she won an award for outstanding research.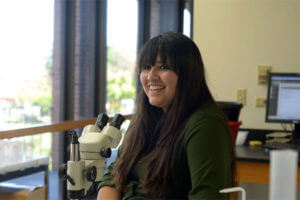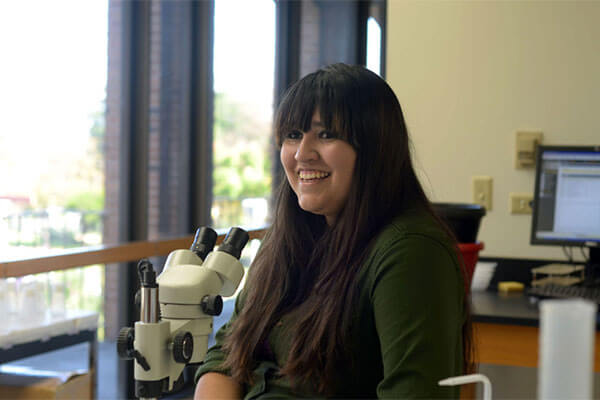 Through all of this, she's maintained a 4.0 GPA.
"This has definitely required balancing social life and academics," Romo said. "There have been lots of nights where I've sacrificed going out with friends or just hanging out, but I know it's all worth it in the long run."
She spends just short of 40 hours a week in a lab or studying independently outside of class.
Romo credited her parents for her strong work ethic. She recalled spending much of her childhood in a doctor's office where her mother worked as a medical insurance biller. There, Romo witnessed the daily interactions between doctors, medical staff and patients, and was intrigued.
"We really didn't have a true biology class at my high school, but I was interested early on in a health-related career from being around it," she said. "Plus, I've always liked solving problems, and science is full of that."
When it came time to choose a college, Romo wanted somewhere with small class sizes, which would feel familiar to her after her 180-student graduating high school class. Her aunt then told her about St. Mary's.
The rest is history.
"The level of relationships here between faculty, staff and students is amazing," she said.
Romo plans to earn a Ph.D. — a commitment that MARC students make — but is still deciding what she wants to specialize in. Currently, she's interested in career research in the cell biology and DNA fields.
No matter what path she takes, Romo has the confidence to add to her list of accomplishments.
"St. Mary's has changed the way I see my capabilities," she said.