September 3, 2015
St. Mary's University Writer-in-Residence Diane Gonzales Bertrand won the Middle Grade/Young Adult Discovery Prize in the
2014 Writers' League
of Texas Books Awards for her book,
There's a Name for this Feeling / Hay un nombre para lo que siento
.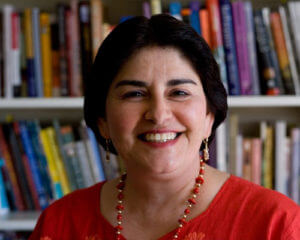 Published in 2014, the book "is a bilingual collection of short stories for teens age 12-15," she said. "Sometimes funny, sometimes serious, the 10 stories give teens plenty to read, write and talk about as they experience living in today's complicated world."
Bertrand has received positive feedback from readers.
"Winning the award is very affirming, but getting letters from teens who have read the book and enjoyed it makes for an even better reward," she said.
Bertrand has received numerous accolades for her work, including Best Latino Children's Book in 2014 by Speaking Latino.com for Cecilia and Miguel are Best Friends / Cecilia y Miguel son Mejores Amigos, and finalist for the 2013 Tejas Star Book Award for Sofia and the Purple Dress.