Engineering management degree
The Engineering Management Program at St. Mary's provides an opportunity for future engineers and managers to enhance their knowledge in the areas of industrial engineering, management science, accounting, corporate finance, project management, technology innovation and entrepreneurship.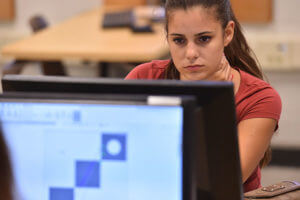 Successful engineering managers in manufacturing, the military or service industries use powerful analytic metrics and methods to solve complex problems. They combine their management expertise with engineering knowledge, enabling them to lead teams of specialists in highly technical tasks.
Engineering Management students take specialized courses from the School of Science, Engineering and Technology, as well as the Greehey School of Business.
A student's perspective
"I can combine those two and do good through business."
Engineering Management courses
Bachelor of Science in Engineering Management Degree Plan
Facilities and Student Engagement
Engineering Labs and Facilities
Engineering Management students have access to an electrical engineering laboratory accessible 24-hours a day, an energy conversion laboratory for motors, generators and transformers, a manufacturing and robotics laboratory, and a research lab equipped with both UNIX and Windows workstations.
Student Opportunities
Many engineering majors work as interns at local organizations such as Southwest Research Institute, Phillips, Luxotica, USAA, Motorola, City Public Service and Harris Electronics. Engineering students also participate in funded faculty research.
Many junior and senior students volunteer their time to tutor freshmen and sophomores in mathematics and engineering courses.
Every engineering senior also completes a year-long design project, some of which have even been patented. Many students also participate in the student chapter of the Institute of Industrial Engineers (IIE), a professional society for industrial engineers.
Engineering management careers
Engineering Management graduates work in a host of settings such as:
insurance and risk management
manufacturing
military
supply chain management
construction
government
hospitals
logistics
consulting
Some primary duties of engineering managers include project management, research and product development.
The outlook for this field is bright, with the U.S. Bureau of Labor Statistics projecting that job growth for architectural and engineering managers is expected to increase about 7 percent through 2022.
Our graduates work in a variety of corporations and organizations such as Johnson Controls, USAA, HEB, UPS, FedEx, Toyota, Union Pacific, Port San Antonio and Kimberly Clark to name a few.
Learn more about the St. Mary's Engineering Management Program
Loading…