October 15, 2019
Federal grant to expand educational opportunities for Hispanic students on the heels of $1 million scholarship gift
A separate $1 million gift for STEM scholarships announced last week brings the total for recently announced funding benefiting the School of Science, Engineering and Technology and its students to $3.9 million.
"This significant federal grant greatly enhances our ability to continue responding to the demand for STEM education on our campus," said University President Thomas Mengler, J.D.
"We are especially energized by the impact this grant will have on our University and our ability to serve the emerging STEM needs of our region," Mengler said.
St. Mary's will receive $2,966,348 over five years — $597,027 in Year 1 — for its Building Capacity for Excellence in STEM Education project.
Funding excellence in STEM
The grant will assist in funding:
Construction of a new Small Unmanned Aerial Vehicle (SUAV) or drone laboratory, to be built with additional help from alumni gifts
Creation of a SUAV (drone) concentration in the B.S. in Engineering Science program
Creation of a Construction Management certification
Redesign and launch of the B.S. in Engineering Management program
Faculty professional development
Student professional development with a focus on leadership and programming for career and postgraduate education success
Addition of faculty members in the areas of Computer/Software Engineering, Engineering Management and Construction Engineering along with adding a drone lab technician
"This grant will enable the School of Science, Engineering and Technology to take another significant step forward in achieving our vision for the future," said Winston Erevelles, Ph.D., Dean of the School of Science, Engineering and Technology.
"By further building out our educational offerings in the areas of drones, construction management and engineering management, the School will continue executing its mission of offering excellent and relevant programs for our students and our region," Erevelles said.
Serving Hispanic and Latino students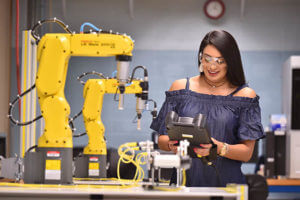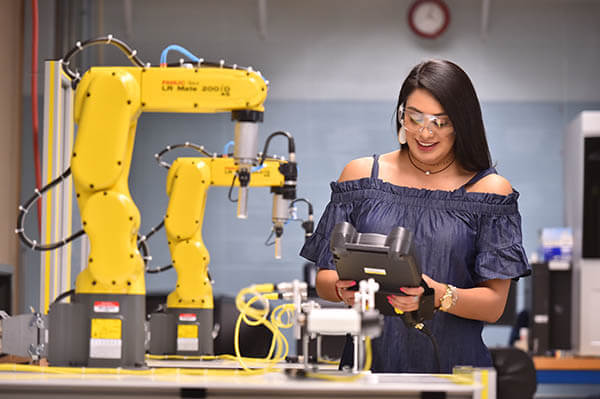 Since 2010, St. Mary's has seen a sizable increase in the percentage of its student body that is Hispanic or Latino. This fall, 60.5% of all St. Mary's students are Hispanic or Latino. Hispanic representation among School of Science, Engineering and Technology students is even greater at 63%. At the same time, San Antonio remains focused on developing industries in these fields. St. Mary's is advancing its STEM pipeline in order to connect students with growing professional opportunities.
The project will be under the direction of Vanessa Tobares, who has successfully led a significant Title V grant at the University. By the end of the project, St. Mary's expects to increase enrollment in these new STEM programs by at least 100 students, with at least 50% of new students identifying as Hispanic. The University also expects the grant to have a significant impact on student success through the planned professional development activities.
As a result, St. Mary's anticipates improved graduation rates in the Engineering student population. At least 8% more undergraduate Engineering students will graduate within four years, reflecting a 6% increase among Hispanic students.
The Title V grant comes on the heels of a $1 million gift from Antonio R. Sanchez Jr. (B.B.A. '65, J.D. '69), executive chairman of Sanchez Oil & Gas Corporation, which established the A.R. "Tony" and Maria J. Sanchez Endowed Scholarship Fund at St. Mary's University. That gift will provide scholarship awards to undergraduate students pursing a degree in the School of Science, Engineering and Technology.