by Alex Z. Salinas (B.S. '11, M.A. '19)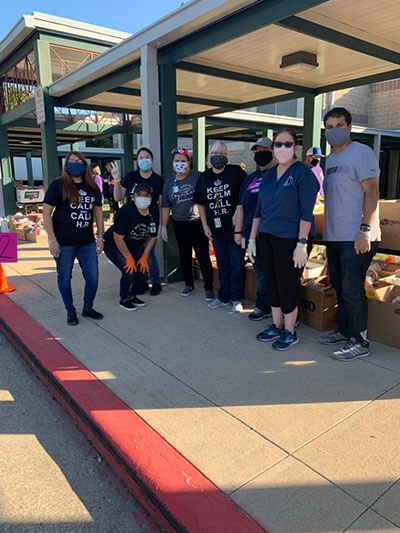 Like most people in the city — and around the world — Jose Placencia's (B.B.A. '10) life has changed drastically from one day to the next during the coronavirus pandemic.
As Assistant Director of Compensation and Employment Support in San Antonio's largest school district — Northside Independent School District — Placencia's primary duty is overseeing compensation records for more than 15,000 employees.
However, after his school district sent faculty, staff and students home indefinitely for their safety, two huge challenges quickly rose to the surface: providing students adequate technology for successful distance learning, and feeding them.
"To aid in these efforts, our district distributed over 20,000 technology devices (i.e., laptops, tables, hot-spot hubs, etc.) to students," Placencia said.
"Also, our Child Nutrition Department continued to serve hot meals to students, both breakfasts and lunches, from designated campuses, and additionally served food supplies donated by the San Antonio Food Bank," he added.
Placencia hit the phones, corresponding primarily with Spanish-speaking families to schedule curbside pick-up appointments for students requesting technology equipment.
"This experience further illustrated the need to expand technology services to our students and their families that are in economically disadvantaged homes," he said.
Since early April, Placencia and his colleagues have helped dish out non-perishable food and fresh produce to students' families at one of five designated locations.
"Each family received at least one box of food supplies from the San Antonio Food Bank and based on the weight of the box, it was at or little over 20 pounds per box," he said.
In a given week, about 2,000 pounds of food are donated to families, Placencia said.
Looking back, Placencia credited St. Mary's University in preparing him well to communicate with people, especially during a trying time.
"St. Mary's provided a platform for me to interact with different people from various cultures and backgrounds," he said. "From Big Brothers Big Sisters of South Texas to the Volunteer Income Tax Assistance (VITA) program, there were many opportunities I took part in that strengthened my foundation to be of service to others."
Tom Madison, Ph.D., CPA, Associate Dean and Ed Boyle Professor of Accounting in the Greehey School of Business, said Placencia took his upper-division accounting class and was "incredibly disciplined and hardworking."
"I know Jose better from his involvement with the St. Mary's VITA program, one of the premier social justice endeavors of the University," Madison said. "As a senior Accounting major, Jose played a major role in recruiting and training over 150 VITA volunteers and supervising the preparation of over 800 tax returns resulting in refunds that totaled more than $1.6 million."
While Placencia said the pandemic has been "quite the disrupting force," he is inspired by the coming-together of people to make life easier for others.
"From our teachers who have done commendable work switching to a new teaching format, to essential employees and community members, we are expressing humanity during the most dire of times," he said.