This year marks a milestone for several beloved faculty members, many of whom will celebrate 40 years of dedicated service to the St. Mary's University School of Law.
Sister Grace Walle, F.M.I., D.Min.; Vincent Johnson, J.D., LL.M., LL.D.; and Gerald Reamey, J.D., LL.M., started at the School of Law in August 1982. For four decades, they have given their all to law students through their extensive knowledge and professional experience — encouraging them through their studies and cultivating countless cohorts of new lawyers.
We are also bidding a bittersweet retirement farewell to André Hampton, J.D., who joined the School of Law in 1994. Reamey will be retiring at the end of the academic year as well.
These outstanding faculty members' legacies are reflected throughout the legal community by the students they have educated and their commitment to Marianist values.
Sister Grace Walle, F.M.I., D.Min.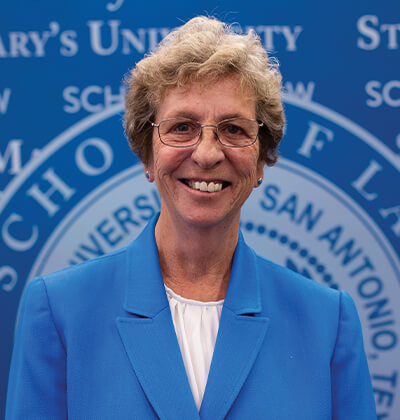 Starting her St. Mary's University career in 1982 as a campus minister, Walle, through her work with the law school, was named Law Chaplain in 1993. Walle would oversee the annual Red Mass for the next 30 years. During the school year, Walle serves staff and students from all faith backgrounds and offers personal guidance, spiritual support and opportunities for community prayer. She plans service and social events uplifting the University's Catholic and Marianist mission.
"Sister Grace is a very special example of God's hands and feet here on earth. If she's part of your life, count your blessings. If she asks for your help with one of her many ministries, say 'Yes.' Her faith, her work, her dedication and impact are simply remarkable."

Mary Brennan Stich (B.A. '78, J.D. '81), University Trustee, former vice president and deputy general counsel, Rackspace
Vincent Johnson, J.D., LL.M., LL.D.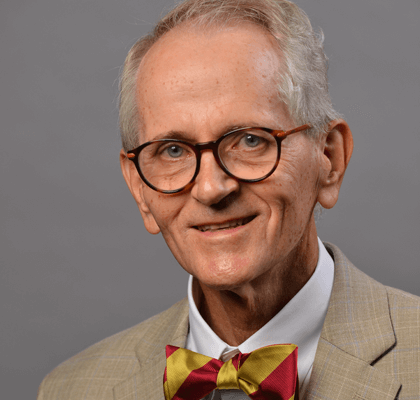 Since joining the St. Mary's School of Law faculty, the South Texas Distinguished Professor of Law has had countless accomplishments benefiting the School of Law, including helping establish study abroad programs in Austria and China, and serving as a mentor of the St. Mary's Law Journal. Johnson teaches and writes in the areas of torts, professional responsibility, legal malpractice, government ethics, international law and comparative law. He served as Interim Dean and Charles E. Cantú Distinguished Professor of Law from 2019 to 2020.
"When I met Professor Johnson in 1983, he was a young kid — brand new on the St. Mary's faculty and already a brilliant, dynamic and engaging professor and a student favorite. In the four decades that followed, he accomplished too many things to list here. At the same time, he managed to publish nine textbooks and over 50 legal articles, hobnob with countless Supreme Court justices and earn an LL.M. at the London School of Economics. Most importantly, though, he has always been a friend and mentor to law students. Thank you, Vincent, my friend."

David S. Bright (J.D. '86), attorney, Sico Hoelscher & Harris LLP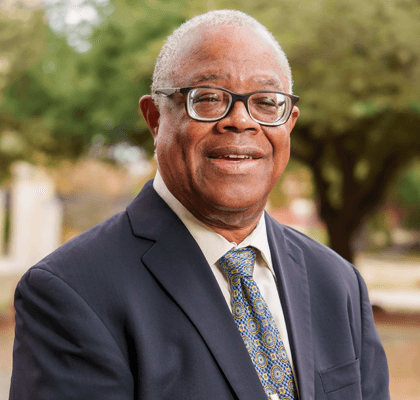 Hired full time by the School of Law in 1994, Hampton was granted tenure in 2000. For the last two decades, he has served in various administrative and leadership roles, including Associate Dean for Administration at the School of Law and five years as president of the St. Mary's University Faculty Senate. He assumed the position of Vice President for Academic Affairs in February 2010 after serving as Interim Vice President since 2008, became the University's first Provost in September 2010 and returned to the School of Law faculty in 2015. In January, he was awarded the Distinguished Faculty Award for the School of Law by the St. Mary's University Alumni Association.
"Professor Hampton is one of our best and brightest, and the School of Law will never be the same without him. He has served as an extraordinarily successful provost for the University and as an exceptionally valuable professor in the School of Law. And he has been (and will continue to be) my best friend. I, among many others, will miss him greatly."

David Dittfurth, J.D., LL.M., St. Mary's Professor of Law
Gerald Reamey, J.D., LL.M.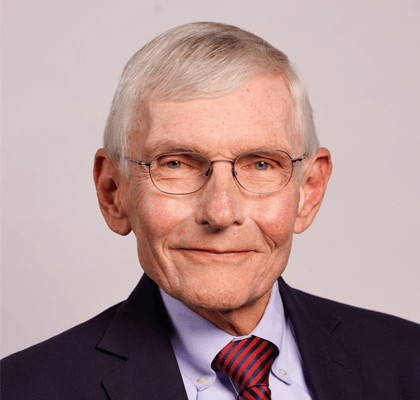 Having held many leadership titles at the School of Law, Reamey is a former Associate Dean for Academic Affairs and co-founder and frequent co-director of the St. Mary's Institute on World Legal Problems in Innsbruck, Austria. Reamey is an award-winning author and the recipient of several teaching awards, including for his work in judicial education. Reamey has been awarded the Culture Medal of Honor by the City of Innsbruck. He teaches, writes, and consults in criminal law, criminal procedure and law enforcement issues and is a member of the Order of the Coif and the American Law Institute. Since 2021, Reamey has presided as Judge of the Municipal Court of Shavano Park.
"Few individuals have impacted my career from my days as a law student to my current position as a judge on the Texas Court of Criminal Appeals as did Professor Reamey. I am honored to call him a lifelong mentor, but mostly a great friend. Congratulations on a wonderful career that has affected so many of us in the legal profession."

The Hon. Bert Richardson (J.D. '87), judge, Texas Court of Criminal Appeals