by Jennifer R. Lloyd (M.B.A. '16)
As the metal skeleton of the new Blank Sheppard Innovation Center rises three stories among the pecan trees on the St. Mary's University campus, anticipation continues to build for the opening of the new building and the launch of the planned Bachelor of Science in Nursing Program that will take up residence on the third floor in 2024.
Gold & Blue magazine sat down with Donna M. Badowski, DNP, Vice Dean of the School of Science, Engineering and Technology, and Founding Director of Nursing, to learn more about her background and get the inside scoop on the planned Nursing Program.
Badowski shares what brought her to her new role and her big plans for the new degree while she manages the process of seeking approval from the Texas Board of Nursing and the Southern Association of Colleges and Schools Commission on Colleges (SACSCOC).
Q: You've said that neither of your parents worked in health care, so what drew you to a career in nursing?
A: I was in fifth grade, and we had to dress up as what we wanted to be when we grew up. I had no idea what to dress as, and my father had the Sunday newspaper and said, "You should be a nurse. Look at all these jobs for nurses. It would be a great career." My mother always wanted to be a nurse but didn't have the means to go to college. She kind of promoted the idea, too. So, I dressed up as a nurse, and it stuck with me.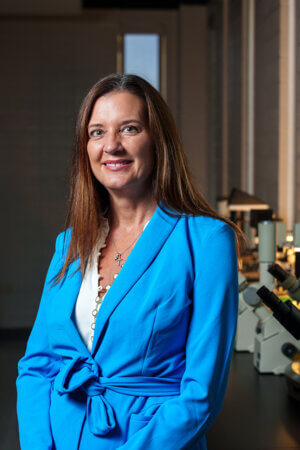 Q: Now, 15 years into your career of teaching nursing, you came to St. Mary's from a position as Associate Director of the RN to MS Nursing Program at DePaul University in Chicago. Did you always aim to be a nursing educator, or were you more interested in the practice of nursing originally?
A: When I was in college, I felt like some faculty could have been kinder and gentler. When I went to school, we had some faculty who made students cry. And I was like, there's got to be a better way. In the back of my head, I could see myself teaching nursing because there's a better way than to terrify and traumatize students.
Q: How are you implementing the lessons from your experience into the design of the St. Mary's Nursing Program?
A: I embrace the approach of being kind and gentle to our students, but I also have to challenge them. I once had a student call me three months after taking my class to tell me, "You were a tough instructor, but I want to thank you. Because now that I'm in clinical education, my faculty are not asking me these challenging questions, and I miss it."
Q: Since you're from the Chicago area, what inspired you to work at St. Mary's?
A: I really liked the mission. I came from a Catholic institution and, even when I worked in health care, I worked in hospitals that had a Catholic affiliation. I hate to use the phrase, "divine intervention," but something just prompted me to change my cover letter very quickly and update my CV super fast.
Q: As you develop the new program, making decisions on curriculum and textbooks is probably very exciting. Tell me what it's like to build this program from the ground up.
A: It's tough, but I love challenges, and it's exciting. I love to challenge myself both professionally as well as physically. I decided at the age of 50 to do a triathlon and I never knew how to swim. I took swim lessons, but I signed up for the triathlon beforehand because it made me persevere through it. I jumped in and did a half Ironman, and then I decided to also run a marathon.
Q: What lessons do you take from your triathlon and marathon training into your educational approach?
A: I think about that first half Ironman and, knowing that there are people counting on me, that really pushes me through the challenge of it all. Relating to educational challenges, it was a huge accomplishment for me to go to nursing school and pay for it all by myself. I worked part-time, 20 hours a week during the school year, and full-time during the summer at a bank. I can relate to the students here because I'm sure a lot of them are doing the same thing. I just want to be supportive and be a cheerleader, saying you can do this.
Q: The supportive mentality you describe speaks to the family spirit in the University's Marianist approach to education. Describe what you see as the alignment between the Marianist mission and the Nursing Program as you envision it.
A: Any patient in a hospital is sick. They're relying on you. They're at their worst moment, and some of them are among the more vulnerable in our population already. We have to treat them with kindness and compassion and be just and fair. The whole component of faith is so important in nursing because faith breeds hope. We're working for the common good of all of our patients.
Q: What else do you think will make the St. Mary's Nursing Program distinctive?
A: I'm trying to focus on the mental health, psychosocial component of health. A lot of nursing programs have mental health later in the curriculum. I have it as one of the first clinical experiences students will have because it's not just a specialty in nursing education. Every patient whom nurses encounter has a mental health, psychosocial component. And it impacts their physiological health. I want to address that component first so they can treat their patients holistically. Another big push that I'm trying to instill in this program is that of adaptation and change — ensuring that we equip students with the skills needed to assist patients with health behavior change.
Q: What's an example of a skill that would help future nurses guide their patients toward behavior changes?
A: Motivational interviewing skills is a patient-centered communication technique that involves really hearing the patient's perspective and trying to understand their beliefs and values. It's not a way of convincing but of working with the patient to assist them with the changes they have to make to help them get better, stay healthy or prevent disease. That's primary care.