February 24, 2023
The St. Mary's University School of Law National Moot Court Team has been crowned national championships at the 52nd Annual William B. Spong Jr. National Moot Court Competition, giving them their third victory in a three-month span.
Second-year J.D. students Rylee Stanley, Layne Mustian, Caitlin Sullivan and Isaac Palacio represented St. Mary's Law in the recent competition.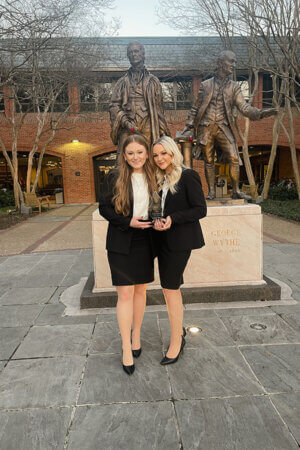 The tournament took place Feb. 16 and 17 at William & Mary Law School in Williamsburg, Virginia, and included 42 teams. The team of Stanley and Mustian advanced to the final round where they prevailed over a team from Washington University School of Law in St Louis.
"The moot court program at St. Mary's is second-to-none," Stanley said. "I am extremely blessed to be a part of this distinguished team."
Mustian gave credit to her coaches and teammates, saying it is an honor to bring another championship to the Advocacy Program.
"I am incredibly grateful for the opportunity to represent our school in a national competition and even more excited to bring home another national championship for St. Mary's," Mustian said.
The top-place finish continues a winning streak for the Moot Court Team, which also saw a first-place finish at the New York University School of Law's National Immigration Competition on Feb. 5 with a team of third-year J.D. students Haley Harvey and Kathryn Cantu and second-year J.D. student Emily Mann.
St. Mary's Advocacy Program's National Trial Team also saw success in January when it defended the national championship at the National Trial League Competition and became back-to-back champions.
A.J. Bellido de Luna, J.D., Assistant Dean for Advocacy Programs and Hardy Service Professor of Law, praised the victories by attributing the work put in by the students and their coaches.
"The National Moot Court Team has long been the crown jewel of our Advocacy Program," Bellido de Luna said. "The credit, of course, goes to our very talented students and coaches who go above and beyond expectations and bring great pride to our program and University."