August 7, 2023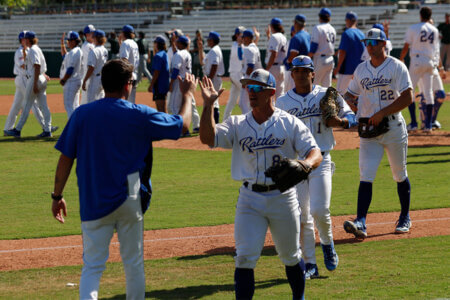 For the second-straight season, the men's sports at St. Mary's University have won the ultimate award in the Lone Star Conference, winning the 10th annual Lone Star Conference Academic Excellence Awards presented by Balfour on Monday.
St. Mary's earned the men's honor for the second consecutive year, while Texas Woman's University in Denton captured its conference-best sixth women's award as the athletic departments with the highest collective team GPA for the 2022-2023 academic year. The Rattlers and Pioneers will each receive a cash reward and custom trophy.
"We're thrilled to recognize both St. Mary's University and Texas Woman's University for their outstanding academic achievement this past year," LSC Commissioner Jay Poerner said. "Thank you to Balfour for its continued support of this prestigious award."
The Rattlers also won the individual sport academic championships for 2022-2023 in Baseball and Women's Golf. The Women's Golf team had the highest team GPA at 3.926, which is also the top GPA in the history of the league's academic excellence awards. Earlier this year the team won the Academic National Championship, presented by the Women's Golf Coaches Association (WGCA). The Baseball team recorded a 3.456 GPA to lead all the league's baseball squads.
"I can't tell you how proud I am of our entire athletic program for the amazing work our student-athletes accomplished during the 2022-2023 season in the classroom," Executive Director of Athletics Robert Coleman said. "To win the LSC Balfour Academic Excellence Award for the second-straight year on the men's side after winning the award on the women's side in 2020 goes to show the effort our student-athletes put into being competitive not only on the field of play but in the classroom as well. It really is about both academics and athletics at St. Mary's."
The award winners were determined by a point system, with points distributed according to finish by sport in those that the LSC sponsors after a conference-wide comparison of team GPAs. The member institution with the highest team GPA in each sport was named the sport's Academic Champion and earned five points toward the overall award. Each sport's runner-up picked up four points and third-place three points toward the overall award. Any program with a Team GPA of 2.00 and above earned one point. Points for each member institution were totaled by gender and then divided by that institution's number of counter programs in that gender to arrive at the comparison value.
The Rattlers have now won at least one of the LSC Balfour Academic Excellence Awards in three of the four years St. Mary's has been in the Lone Star Conference, winning the women's award in 2020 and the men's award in 2022 and 2023.