July 18, 2023
For the first time in its history, the St. Mary's University Women's Golf team has been named Academic National Champions by the Women's Golf Coaches Association (WGCA). The association made the announcement today as the Rattlers topped the list of the All-Scholar Team GPA Award in NCAA Division II.
The Rattlers have finished fourth in the prestigious race each of the last two seasons. Women's Golf becomes the second team at St. Mary's to earn Academic National Champions, joining the 2008-2009 Men's Golf team.
"This is a tremendous honor for the Women's Golf team," said Executive Director of Athletics Robert Coleman. "And it is a reflection of our student-athletes' commitment on the course and in the classroom. Their hard work embodies the excellence we aspire for as an Athletics program – which is to create a student-athlete experience modeled in the Marianist spirit and distinguished by academic achievement, personal development, integrity and nationally competitive athletic teams."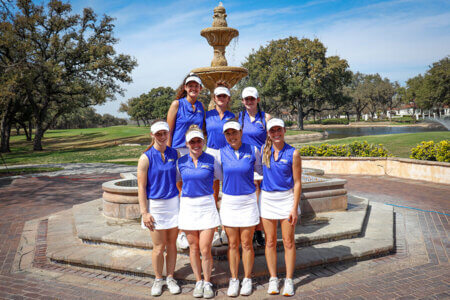 The 2022-2023 Women's Golf team is comprised of senior Estelle Beck (Lakeway, Texas), junior Maria Ferrer (Queretaro, Queretaro, Mexico), sophomore Libby Kilbride (Sheffield, England), sophomore Orla O'Leary (Galashiels, Scotland), senior Rebecca Reed (Midland, Texas), sophomore Madalyn Trevino (San Antonio) and senior Jordyn Wray (San Antonio). The seven golfers combined for a 3.925 GPA for the 2022-2023 academic year.
"The Rattler Women's Golf team has shown incredible resolve in achieving both academic and athletic excellence," said Thomas M. Mengler, J.D., President of St. Mary's University. "Each of these women has made themselves and their University proud. They have exhibited the hallmarks of Rattler Athletics' mission-focused performance, grounded in our Marianist ideals, and provided an example for all student-athletes to follow."
Earlier this month, five members of the team were named to the WGCA All-Scholar team, which requires achieving an overall cumulative GPA of 3.50 or higher, remaining on the team's roster through the conclusion of the season and competing in at least 50% of the team's regularly scheduled competitive rounds. Beck, Kilbride, Reed, Trevino, and Wray earned the honor. It is the third award for Beck, Reed, and Wray, the second for Trevino and the first for Kilbride.
"The Rattler Women's Golf team has shown incredible resolve in achieving both academic and athletic excellence."

Thomas M. Mengler, J.D.
On the links, the Rattlers advanced to the medal match play semifinals at the Lone Star Conference Championship, finishing third and advanced to their seventh-straight NCAA Regional, where they finished sixth overall.
St. Mary's is the only Lone Star Conference team to place in the top 20 in the award, and they rank third among teams in all three divisions of the NCAA, trailing only Marshall and Denver from Division I.