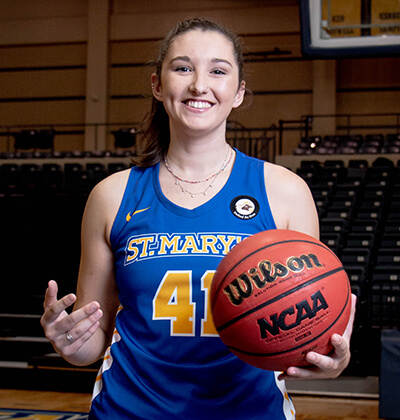 As a five-sport student-athlete in high school in Fredericksburg, Hannah Wilson (B.A. '21) learned to balance school, sports, a social life and more. It hasn't always been easy, but her ability to juggle multiple responsibilities helped her thrive when she transitioned to St. Mary's University.
In Fall 2017, Wilson brought her basketball talents to St. Mary's, where she has been on the starting lineup since freshman year, holds the school record for most rebounds in a game and has received multiple Lone Star Conference recognitions including All-Conference, Commissioner's Honor Roll and All-Defensive Team. It immediately became apparent that the decision to grant Wilson a full scholarship for both her undergraduate and graduate years was the right one.
"The sky's the limit with her," said Jason Martens, Head Women's Basketball Coach. "Hannah has turned herself into one of the best players in her position in the conference, being a first-team, all-conference player and breaking numerous records. This is all a testament to her incredible work ethic."
These accomplishments were not achieved without adversity. Wilson battled numerous injuries and three surgeries early in her basketball career. Her work ethic and mindset helped her overcome these setbacks.
"It's a common theme with her: her work ethic on the court carries over in the training room," Martens said. "There'll be days when I don't know if she'll be able to make it through a practice. I tell her she can step off and she will, only to put more tape on and continue to practice. She's fought through so much physically in these four years. To do what she is able to do really shows character and perseverance."
"I'm proud of myself for graduating once, majoring in something I've always had a passion for and being able to perform well as a student-athlete."

Hannah Wilson (B.A. '21)
After earning her bachelor's in Mechanical Engineering in Spring 2021, Wilson began pursuing a master's in Engineering Systems Management and, because of COVID-19, decided to use her extra year of eligibility to continue playing with the University.
Nazia Afrin, Ph.D., Assistant Professor of Mechanical Engineering, said Wilson is one of the top students in the program and takes ownership of her duties as she juggles her athletic commitments.
"When Hannah has to miss class, she always makes sure to submit homework and exams on time or even early and always finds time to stop by my office," Afrin said. "Hannah is the kind of student that all professors want to have in their class."
On top of schoolwork and basketball, Wilson has served as the vice president of the American Society of Mechanical Engineering (SME) student organization and as a mechanical engineering intern with BranchPattern in Denver.
Successfully managing her studies, basketball and other leadership roles on campus, Martens and Afrin both agree that Wilson is a prime example of a St. Mary's student-athlete.
"I'm proud of myself for graduating once, majoring in something I've always had a passion for and being able to perform well as a student-athlete," she said. "Graduating last year was such a defining moment for me because I'm now a St. Mary's alum."