Trey Gonzalez to play Y100 Country stage on Friday, April 1
Trey Gonzalez (B.A. '18) has played before crowds of varying sizes, but his next performance is one he says is a little more exciting than others.
That's because the St. Mary's University alumnus is scheduled as the opening act of the Y100 Country stage during Fiesta Oyster Bake, held on campus. Gonzalez is scheduled to perform at 5:30 p.m., on Friday, April 1.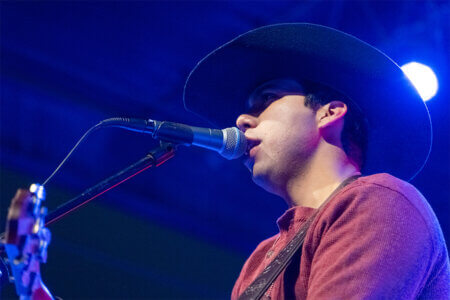 "It's really a dream come true because it wasn't long ago when I was a student at St. Mary's trying out for Battle of the Bands," Gonzalez, a San Antonio native, said. "Seeing it come full circle and being on the Y100 stage, my favorite country radio station, means a lot."
Celebrating its 106th anniversary, Fiesta Oyster Bake draws tens of thousands of spectators annually to raise money for student scholarships and University and alumni programs.
Obtaining a bachelor's in Psychology at St. Mary's and a master's in Industrial Engineering from Texas A&M University in College Station, Gonzalez works as a civilian research psychologist with the United States Air Force at Joint Base San Antonio-Randolph. Gonzalez also finds time to not just perform, but also record albums. His second album, Good Thing Going, is available for purchase.
Gonzalez said his first performance was in San Antonio during an open mic night at The Cove restaurant before playing The Pub at St. Mary's University and dance halls.
He was also involved with University Ministry at St. Mary's and sang during the University's Rattler Awakening, which is a retreat encouraging students to take time for prayer, fellowship and reflection.
"It's really a dream come true because it wasn't long ago when I was a student at St. Mary's trying out for Battle of the Bands."

Trey Gonzalez
Gonzalez, who carries a necklace with the Marianist logo in his guitar case, said Rattler Awakening gave him additional stage time and helped him grow in his faith.
At each show, Gonzalez and the band pray before taking the stage.
"I really fell in love with the Marianist spirit," he said. "I really wanted to have the opportunity to continue to grow in my faith. St. Mary's University offered me that opportunity."
During his time at St. Mary's, Gonzalez said professors encouraged him by taking time after class to meet and asked about his career plans.
Those who influenced his path include John M. Rankin, D.M.A., Director of Jazz Studies, who explained what to expect in the music industry.
Rankin said Gonzalez was a wonderful and caring person who was passionate about music and is an excellent example of what St. Mary's has to offer.
"I'm so proud of him," Rankin said. "He's a hardworking person who took his dreams by the horn."
Watch a video of Trey Gonzalez performing and discussing his connection to St. Mary's University below.