When Erika Gonzalez, M.D. (B.S. '98), learned she had been chosen to sit on the President's Committee on the National Medal of Science, she was in disbelief.
"There was a lot of excitement, and then part of you is like, 'How is this happening? Did they make a mistake?'" Gonzalez said. "But I've never been one not to try. This was a unique opportunity that I don't think will come around often."
As a committee member, Gonzalez and her 11 counterparts — all scientists from diverse fields — are tasked with presenting to President Joe Biden their selection for who should receive the National Medal of Science, the highest honor anyone in the sciences in the United States can receive.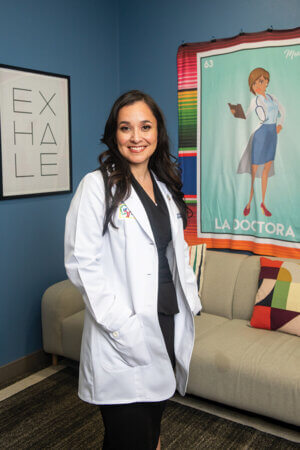 For Gonzalez, this opportunity is even more remarkable considering the nation is on the heels of a global pandemic that required reliance on scientists to find vaccines and treatments.
"Now more than ever is the time to really acknowledge the accomplishments that COVID-19 researchers have made, especially since they were key to ensuring that we got to where we're at right now," she said. "I'm in awe of these scientists."
Gonzalez was selected for the committee because of her accomplishments in health care. Gonzalez is the president and CEO of South Texas Allergy & Asthma Medical Professionals. She also served 10 years as a medical officer in the U.S. Air Force, reaching the rank of major, and has served on several San Antonio nonprofit boards.
"Allergy and immunology are very much like an investigation," she said. "Someone is telling you they're allergic to something, and you have to be a sleuth and figure out what it is. It's extremely fun for me."
Additionally, the San Antonio native founded Con Corazón, which addresses health inequity in underprivileged communities, and is a board member for Central Catholic High School and Latino Victory, an organization dedicated to building political power in the Latino community.
Gonzalez's role as an executive committee member for the St. Mary's University School of Science, Engineering and Technology Advisory Council has allowed her to keep up with the advances that St. Mary's has made in its science, technology, engineering and math education since she was a student. During a tour of the science facilities, Gonzalez said she was impressed to see the type of equipment at St. Mary's that she didn't experience until medical school or even residency.
"It's exciting to see how much St. Mary's is growing and how progressive it's getting," she said. "These opportunities are going to be very essential in helping today's students reach even further than many of us have."
"Our professors always made us feel that anything was within our reach if we just put in the time and work."

Erika Gonzalez, M.D. (B.S. '98)
"Even today, when I'm applying for fellowships, the stuff that I did in undergrad gives me an edge and has allowed me to be accepted into some very competitive programs," Gonzalez said.
When considering how much she's accomplished in the national medical community, Gonzalez credits the foundation she built at St. Mary's for her success.
"Our professors always made us feel that anything was within our reach if we just put in the time and work," she said. "They helped build that confidence and those leadership skills, as well as the solid knowledge base going into med school."
"No matter what they go on to do, the MARC U*STAR program really builds student agency and confidence," Contreras-Shannon said. "Dr. Gonzalez combined that opportunity with her potential and took advantage of it."
Contreras-Shannon hopes her students learn from the accomplishments of alumnae like Gonzalez.
"When our students look at her, they see someone who wanted something, went after it and got it," Contreras-Shannon said.