March 30, 2021
St. Mary's Law also ranks for its clinical training and part-time program
For the second year in a row, the St. Mary's University School of Law Advocacy Programs ranked in the top 20 in the nation by U.S. News and World Report — moving up to a No. 17 spot in the 2022 Best Graduate School Rankings released today.
The St. Mary's Law Advocacy Programs, which consist of the National Champion Moot Court Team, the National Alternative Dispute Resolution Team, the National Trial Team and the International Jessup Moot Court Team, prepare students for real-world litigation through the development of their trial and appellate courtroom skills.
"It's one thing to get to the top echelon with all these other wonderful schools, but to be able to do it three years in a row is a validation of what we're accomplishing here, and I couldn't be more pleased," said Hardy Director of Advocacy A.J. Bellido de Luna, J.D. "This ranking has just as much to do with our work with all of our partner schools as it does the amazing students we have at St. Mary's."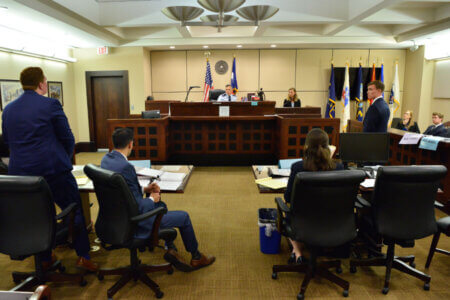 With the help of partner law schools, Bellido de Luna paved the way for three national virtual advocacy competitions. The St. Mary's Law Advocacy Programs went on to assist other schools with several competitions, including two American Bar Association national competitions. Altogether, the program has helped put on more than 1,900 scored rounds.
"In a year where nothing was normal, our advocacy programs modeled skill and servant leadership by hosting virtual tournaments that allowed law students from across the nation to compete at the highest levels despite the pandemic," said School of Law Dean Patricia E. Roberts, J.D.
Since the 2020 rankings, the St. Mary's Law Advocacy Programs' U.S. News and World Report ranking continued to climb — from being a top-25% program to a top-20 program in the 2021 rankings and now tied with the University of California, Berkeley, for the 17th best program in the country as of the 2022 rankings.
The American Bar Association also ranked St. Mary's Law in the top five advocacy programs nationwide in 2020 and then a top-four program in 2021.
St. Mary's Law also tied for the No. 49 ranking on the U.S. News and World Report 2022 list of part-time programs and ranked for its clinical program.
"The St. Mary's University School of Law's increased rankings in advocacy, clinical training and our part-time program demonstrate our emphasis on teaching the practical skills necessary to meet our mission of service, justice and peace, with a part-time program that provides access to the profession to those with work or family obligations," Roberts said.