by Alex Z. Salinas (B.S. '11, M.A. '19)
More than a year into the global pandemic spawned by COVID-19, it's easy to forget the times before face masks and social distancing inundated and separated us. With new challenges arising daily, and old ways of life coming into question, St. Mary's University believes one answer to uncertainty remains one of the bedrocks of a Marianist university — educating for transformational leaders.
Expanding and enriching online instruction. Building out new courses to address evolving challenges students face. Forming a President's Council on Diversity, Equity and Inclusion and leading campus-wide discussions on creating an inclusive learning environment. Reshaping how and why students pursue careers as servant leaders.
Multiple stakeholders at St. Mary's are leading the way to continue delivering excellent education to students, helping them become "leaders for the common good in the communities in which they will live, work and worship," said President Thomas Mengler, J.D.
Through transformational leadership in academic programs, student development and faith formation, Mengler said St. Mary's students gain not only a premier education, but also — in the spirit of the University's 169-year-old Catholic and Marianist identity — a "commitment to serving others."
When the pandemic hit last March, rupturing society seemingly overnight, faculty and staff at St. Mary's responded quickly by transitioning the University's signature small-feel classroom experience online.
Kathleen Gallagher, Ph.D., Associate Professor of Graduate International Relations, showcased her leadership by creating new classes centered around issues and inequities exposed by the coronavirus.
Her Fall 2020 course, Asian Security Studies, and her Spring 2021 course, Social Suffering and the Scholarship of Bearing Witness, were formed partly out of an "emphasis on service and attention to the disenfranchised," said Gallagher, who spent years living and working in Nepal's squatter settlements.
"If Blessed Mother Mary is the heart of our Marianist charism, we must ask ourselves, are we being service-oriented? Are we other-centric?" she asked.
According to Gallagher, her students "appreciated having a vehicle in real time to process this life-changing event."
"It's important to create a sense of community where students can feel comfortable to share any struggles, discomforts and hurt about their faith lives and perspectives," she said.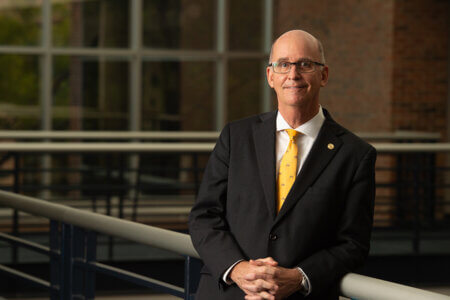 With a fresh way of approaching education while enhancing the community experience, the University in Fall 2021 will premiere a new Core Curriculum — the result of a three-year research, review and development process.
The new Core includes updated degree programs across the schools with fewer hours allowing students to more easily pick up additional majors and minors while still being able to graduate on time.
There is also a new course designed for incoming freshmen, the First-Year Experience (FYE), "to inspire multidisciplinary intellectual development," said William Buhrman, Ph.D., Interim Provost and Vice President for Academic Affairs.
"It sets the stage for the exciting new academic, social and personal journey available to students when they join the University," Buhrman said. "Most of all, the FYE encourages students to be confident in their ability to successfully complete their studies and embark on their career vocation."
When Cody Miller of New Braunfels arrived at St. Mary's from a high school with a graduating class of 19, he was scared to make new friends.
However, Miller — who in May earned his bachelor's in Marketing — immediately discovered at St. Mary's "really involved students who I wanted to be like."
In joining the Honors Program, Greehey Scholars Program and Enactus — all of which focus on academic excellence and transformative ethical leadership development — Miller befriended an ambitious classmate, Guillermo Avelar (B.B.A. '18), and "made him my mentor."
In his freshman year, through Enactus, Miller traveled to India to assist people in poverty alongside the Marianist brothers working there — an experience he called, "humbling and unforgettable."
Leaving St. Mary's with three internships under his belt, the last of which was at Planoly, an Austin-based social media marketing company Miller completed remotely from his parents' house in New Braunfels during the stay-home period, he said his undergraduate education taught him "doing good things for people, doing them more than just for profit, feels right."
Hailing from Peru, Marketing senior Ximena Barbagelatta Grau got on a plane, alone, for the first time at age 17 to come to St. Mary's.
Initially homesick — "I didn't know how to do laundry or cook," Barbagelatta Grau said — she remembered her mom's advice about putting faith in God. Through joining the Marianist Leadership Program (MLP) and later the President's Ambassadors (PA), she felt empowered "to become ambitious."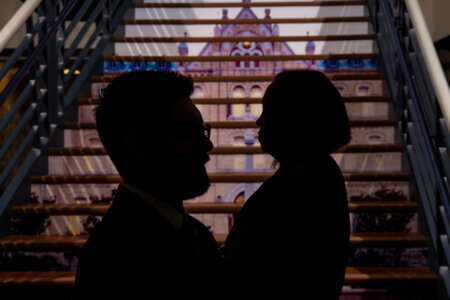 Barbagelatta Grau, who in March attended the opening and blessing of the new Drone Lab as a PA — clad in the members' signature navy blazer — said community outreach opportunities such as Continuing the Heritage and volunteering as a Confirmation class leader for high schoolers at neighboring Holy Rosary Parish showed her "how to be a servant leader."
"St. Mary's has given me a way deeper perspective on what leadership means, how to express it with faith and spirituality," she said.
Before graduating in May, Biology major Steven Castillo served two years as a resident assistant (RA) in Marian Hall.
Entering Fall 2020, the Amarillo native faced his biggest challenge in making the living experience for other student residents a memorably positive one.
"Leaders are people who seek challenge and discomfort, and who grow through these experiences," Castillo said.
Taking a cue from his favorite writer, Mark Twain, in Castillo's words "to not talk more than listen," he and his fellow RAs established resident activities, such as meditation sessions after midterms, painting succulents and ice cream socials — all via Zoom — "to be present for other people's trials, as the quality of our presence is more important than our work," he said.
Castillo, who was accepted into medical school, said his journey at St. Mary's being a student leader in unprecedently trying times instilled in him "compassionate presence."
"Make every moment count," he said. "Every single memory is precious."
At St. Mary's, you often hear people refer to the community as a family. In fact, one of the five elements that characterize the Marianist approach to education is educate in the family spirit.
For some, this is strictly metaphorical; for others, like English and Theology senior Sarah Uhlig, it's literal.
Uhlig's father — Chair and Professor of Mathematics Paul Uhlig (B.S. '90), Ph.D. — signifies her presence at St. Mary's as familiar as it is familial.
"Here at St. Mary's, I have a support system of faculty and staff, some of whom have watched me grow into the person I am today," Sarah Uhlig said.
"Leaders are people who seek challenge and discomfort, and who grow through these experiences."

Steven Castillo, Biology major
As a member of the MLP, she was one of the students responsible for organizing a six-week program for this year's 40 Days of Lent and Service, which consisted of virtual and limited in-person events including student-led prayer services, volunteering at the San Antonio Food Bank and discussions on social justice.
"St. Mary's has helped me grow as a young adult by helping me get involved, find ways to challenge myself and network with professionals so I'm prepared for the world after college," she said.
Yasamin Sadreddinimehrjordi, second-year J.D. student in the School of Law, said she had always wanted to study law, "but doing law school back in Iran as a woman didn't really make sense."
In 2015, she earned her bachelor's in Civil Engineering from the University of Texas at Arlington and had her first child. She later pursued her dream of becoming a lawyer by enrolling at St. Mary's.
Sadreddinimehrjordi discovered a mentor in Vincent Johnson, J.D., LL.D., South Texas Distinguished Professor of Law, who helped her land a clerkship in Spring 2021 with practicing law faculty member U.S. District Judge Xavier Rodriguez, J.D.
Through her clerkship, Sadreddinimehrjordi attended hearings, drafted summary judgments and picked the judge's brain about criminal cases.
Sadreddinimehrjordi said faith was something she never felt she had prior to attending St. Mary's Law, but "amazing" events, such as the annual Red Mass celebrating the start of the judicial year at San Fernando Cathedral, changed her.
"What I learned is, from a criminal aspect, most people can't afford an attorney so they end up with a public defender," she said. "I want to do something that's fair to the people I can help. If that's taking pro bono cases here and there, or being a quality public defender, a lot of people deserve to have better representation."
In June 2020, amid national attention on violence toward people of color rooted in systemic injustices, St. Mary's formed a President's Council on Diversity, Equity and Inclusion to advance the University's efforts to become and stand firmly as an anti-racist university.
In April, longtime Director of Student Life Sheri King, Ph.D., accepted a new role as Associate Vice President for Diversity, Equity and Inclusion (DEI). Since then, King has worked tirelessly on establishing the new Office of DEI in St. Louis Hall.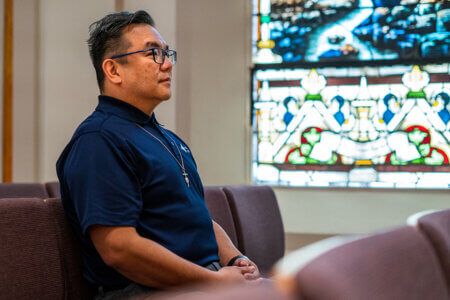 "I have had many conversations with students to broaden their cultural knowledge. In addition, I've advocated for the inclusion of events to embrace our diverse student population," King said.
Chipping into this effort is Marianist Brother Allen Pacquing, S.M., Associate Director of Marianist Student Initiatives for the Office of Community Engagement, who leads the MLP.
"In every opportunity I have, I encourage students and those around me to always be considerate and intentional of their neighbors, always look at ways to promote dialogue on social justice areas that tug at the heart," Pacquing said.
In fostering these conversations, St. Mary's works to promote world conscientiousness among its faculty, staff and students.
"As we educate students to be global citizens who advocate for justice and peace, we must understand we live in an ever-changing world. Being transformational leaders ensures we evaluate our workplaces and communities on a continuing basis," King said.
Outside the St. Mary's classroom, staff members work long hours to maintain a culture of family and, by extension, transformational prayer life.
When the pandemic first hit, Jessica Uhlig, Ed.D., Associate Provost for Academic Administration and Mission Integration (and, you guessed it, Paul Uhlig's wife), placed her faith in technology, transitioning her normally in-person Tuesday morning prayer meetings for interested faculty and staff to Zoom.
"I developed it to remind colleagues and friends that we could still gather together for prayer and reflection," Uhlig said.
Kathe Lehman-Meyer, Director of the Academic Media Center, said virtual morning prayers have helped her "stay focused on why I'm here working at a Marianist institution whose charism focuses on balance and community."
Jessica Uhlig, who has overseen the President's Ambassadors (PAs), also assisted in modifying, with Mengler's blessing, the start of virtual St. Mary's University Board of Trustees meetings, which occur four times an academic year.
"As we educate students to be global citizens who advocate for justice and peace, we must understand we live in an ever-changing world."

Sheri King, Associate Vice President for Diversity, Equity and Inclusion (DEI)
The meetings now commence with a prayer led by PAs followed by a Q&A through which the Trustees engage directly with the students they serve.
"To be a transformational leader is to align one's personal and professional mission to the mission of the organization the person is affiliated with," Uhlig said.
Transformational leadership at St. Mary's takes many forms.
Professors checking on students' welfare. Students checking on one another. Community service aiding those in need. Treating everyone respectfully. Cultivating the common good.
"I believe the common good is continuously working toward acceptance and love of our neighbor," said recent graduate Zyania Seijas (B.B.A. '21). "It is an individual, yet collective effort."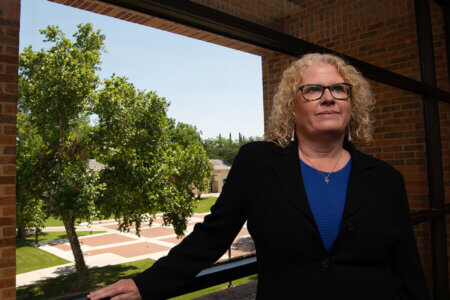 "Educating in the family spirit doesn't mean we always agree," said Stephanie Ward, Ph.D., Vice Provost for Vocation and Career Services. "Leadership begins at home. It begins with being grounded in who you are, knowing yourself, striving for consistency.
"At the end of the day, before sleep, ask yourself: 'Did I make a difference today? Did I make somebody else's day better?' If your answer is yes, you're on the right track."
Or as Leticia "Leti" Contreras (B.A. '89), Chair of the Board of Trustees, put it: "Am I going to leave someone better off?'"
"Transformational leaders lead by example while maintaining human dignity," Contreras added.
For Mengler, the University he leads will continue to churn out servant leaders as it has for generations, through dark times and better. Why?
"Because God invites each of us to use the unique medley of gifts and talents we have received — to lead by serving others as best we can," he said.
Watch a video about transformational leadership at St. Mary's here: