February 23, 2021
Virtual immigration symposium to focus on reconnecting with humanity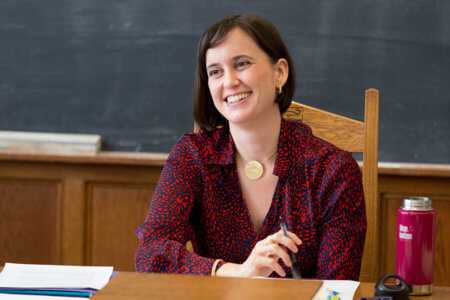 Embracing the theme, The Road to Rehabilitation: Reconnecting with Humanity, the event will feature Cristina Rodríguez, who is the Leighton Homer Surbeck Professor of Law at Yale Law School and co-author of The President and Immigration Law. Like her book, her lecture will explore the long history of presidential control over immigration policy and its implications for the future of immigration law and the presidency itself.
"It is my and The Scholar's honor to present this symposium as a platform of insight and discussion into current and transitional aspects of immigration law," said Agustín Ferreira, third-year St. Mary's J.D. student, symposium editor and first-generation immigrant. "It is imperative to continue the conversation with current and new immigration practitioners and volunteers on our nation's reconnection with humanity."
The virtual symposium takes place from 10 a.m. to 4 p.m. on Friday. The schedule also includes:
A panel discussing COVID-19 impacts on the immigration system featuring:

United Farm Workers President Teresa Romero
St. Mary's Clinical Professor of Law Erica Schommer, J.D.
Immigration attorney Eduardo Beckett, J.D.

Shaw Drake, J.D., staff attorney and policy counsel for border and immigrants' rights, ACLU of Texas
Eitan Peled, program manager at UNICEF USA Child Migration and Protection
Karla Vargas, J.D., senior attorney at Texas Civil Rights Project
Celina Moreno, J.D., president and CEO of the Intercultural Development Research Association
The Scholar researches and publishes scholarly articles identifying legal and social issues adversely affecting minority and vulnerable populations.
The Immigration Symposium offers five Continuing Legal Education credit hours, including one hour of ethics credit. Registration costs $85 for attorneys, $55 for government employees and non-attorneys, $25 for immigration volunteers and $10 for students.
Registration and additional details are available at The Scholar's website. This event is made possible through the sponsorship of Terry Bassham (J.D. '85) and Zulema Carrasco Bassham.