September 14, 2021
The online J.D. program will begin recruiting for Fall 2022 with accreditation by the American Bar Association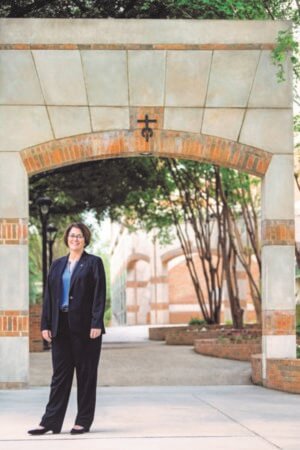 St. Mary's University and its School of Law today announced that it is the first law school in the nation to approve offering a fully online J.D. program that is accredited by the American Bar Association (ABA).
Following the ABA's approval of the School of Law's online program request in May, St. Mary's University leaders this week announced their intention to move ahead with the innovative program and recruit a cohort of students who will begin their studies online in Fall 2022.
"As the only law school serving San Antonio and the southernmost school serving South Texas, St. Mary's Law has a tradition of excellence in legal education stretching back to its founding in 1927," said Patricia Roberts, J.D., St. Mary's Law Dean and Charles E. Cantú Distinguished Professor of Law. "This new fully online J.D. program — the one and only of its kind — exemplifies how St. Mary's Law continues to lead with tradition and innovation."
This limited enrollment, part-time program is meant to support increasing access to the profession for those typically underrepresented, Roberts said. St. Mary's Law is already among the most diverse law schools in the nation with 57.6% of students identifying a minority background, according to the law school's 2020 ABA disclosures.
"It will provide the increased affordability of being able to obtain a legal education without a move to San Antonio," she said. "While this will never replace our in-person program, it will expand opportunities for those in South Texas and beyond who need to stay closer to home while pursuing an excellent legal education."
"This new fully online J.D. program — the one and only of its kind — exemplifies how St. Mary's Law continues to lead with tradition and innovation."

Patricia Roberts, Dean
St. Mary's Law has gained significant expertise in offering fully online legal education since launching an online version of its Master of Jurisprudence (M.Jur.) program five years ago, said Colin Marks, J.D., the law school's Associate Dean for Strategic Partnerships and Innovation. In addition to the faculty experienced in virtual teaching in the master's program, to prepare for virtual teaching during the pandemic, all St. Mary's Law full-time faculty obtained their online teaching certification following a demanding course in instructional design.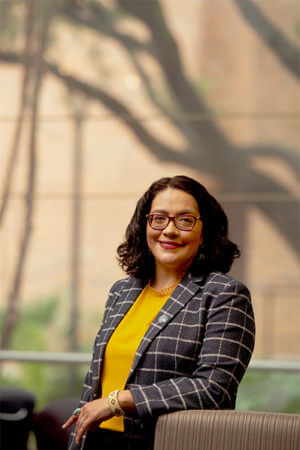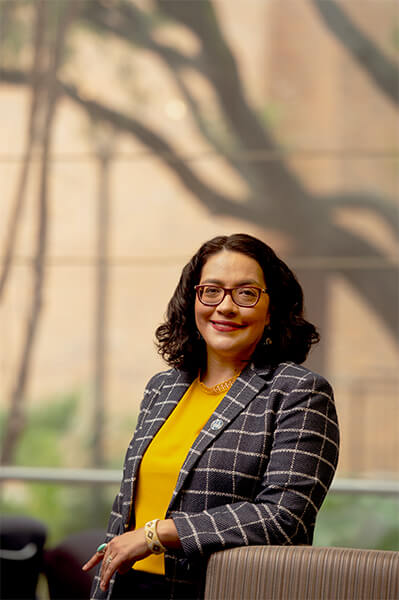 "Because of our experience with the M.Jur. program, we know that St. Mary's Law is capable of offering high-quality legal education in an online format," Marks said. "We also know that we can reach a wider pool of prospective students. Our focus right now will be on those in South Texas as well as academically excellent students from across the nation."
The initial cohort will be limited to 25 students. The program will take about four years to complete and will have a tuition rate in alignment with the current in-person, part-time program tuition rate. Online J.D. students will have access to the full suite of student services and will attend an extracurricular in-person orientation and in-person professional development activities once every other semester.
Zoe E. Niesel, J.D., Associate Dean for Academic Affairs, said that as part of the robust bar exam preparation program at St. Mary's, each online J.D. student will also have extensive coaching and custom bar study schedules.
"We will encourage the next generation of legal leaders to access their future through this landmark program," said Catherine Casiano (J.D./MBA '07), the law school's Assistant Dean for Admissions. "When admitting and enrolling students to the J.D. program, St. Mary's has always looked for outstanding students who have a desire to serve. The online program won't be any different. We will continue to look for academically excellent students who also have a desire to serve their community, pursue justice and be a part of the St. Mary's mission."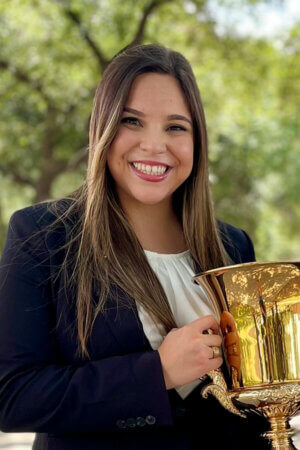 Kathryn Cantu, a second-year J.D. student in the traditional J.D. program at St. Mary's, spent her first year taking courses online because of the pandemic and said she learned a new level of discipline and commitment to earning her law degree by studying online. She also placed first at the Jimi Derrick Moot Court Competition this past school year and is a member of the moot court team.
"I 100% enjoyed my first year, even though I never stepped foot on campus," said Cantu, who is originally from Edinburg in Texas' Rio Grande Valley. "I also was able to establish really meaningful connections, not only with my classmates through group messages and Zoom calls, but also with my professors and with the administration at the law school."
Justice Brett Busby, J.D., of the Supreme Court of Texas, congratulated Roberts and the St. Mary's Law community on the ABA's approval of this innovative program.
"Texas is proud that St. Mary's is leading the way nationally by offering a rigorous online course of legal instruction leading to an accredited J.D. degree," Busby said. "Importantly, this part-time program will expand access to a quality legal education for Texans who do not live near a law school and whose work or family circumstances prevent them from relocating. These students will benefit from knowledge gained during the pandemic about effective virtual learning and from externships across the state where they can gain practical legal experience while helping others. I look forward to welcoming graduates of this program as members of the Texas bar."
Kellye Y. Testy, J.D., president and CEO of the Law School Admission Council, called the new program game-changing and said, "The first fully online part-time ABA-approved J.D. program in the nation! Congratulations St. Mary's University School of Law. And a cornucopia of kudos to Dean Patricia Roberts for driving this innovation forward."
"LSAC's mission is to advance law and justice by encouraging diverse and talented individuals to study law and by supporting their enrollment and learning journeys from prelaw through practice," Testy continued. "So we are thrilled that St. Mary's University School of Law will further enable access to the profession by those unable to attend a three- or four-year residential J.D. program. This is potentially game-changing news, as other law schools will follow the path blazed by St. Mary's University School of Law."
Watch Dean Roberts introduce the new Online J.D. program in the video below.