December 10, 2020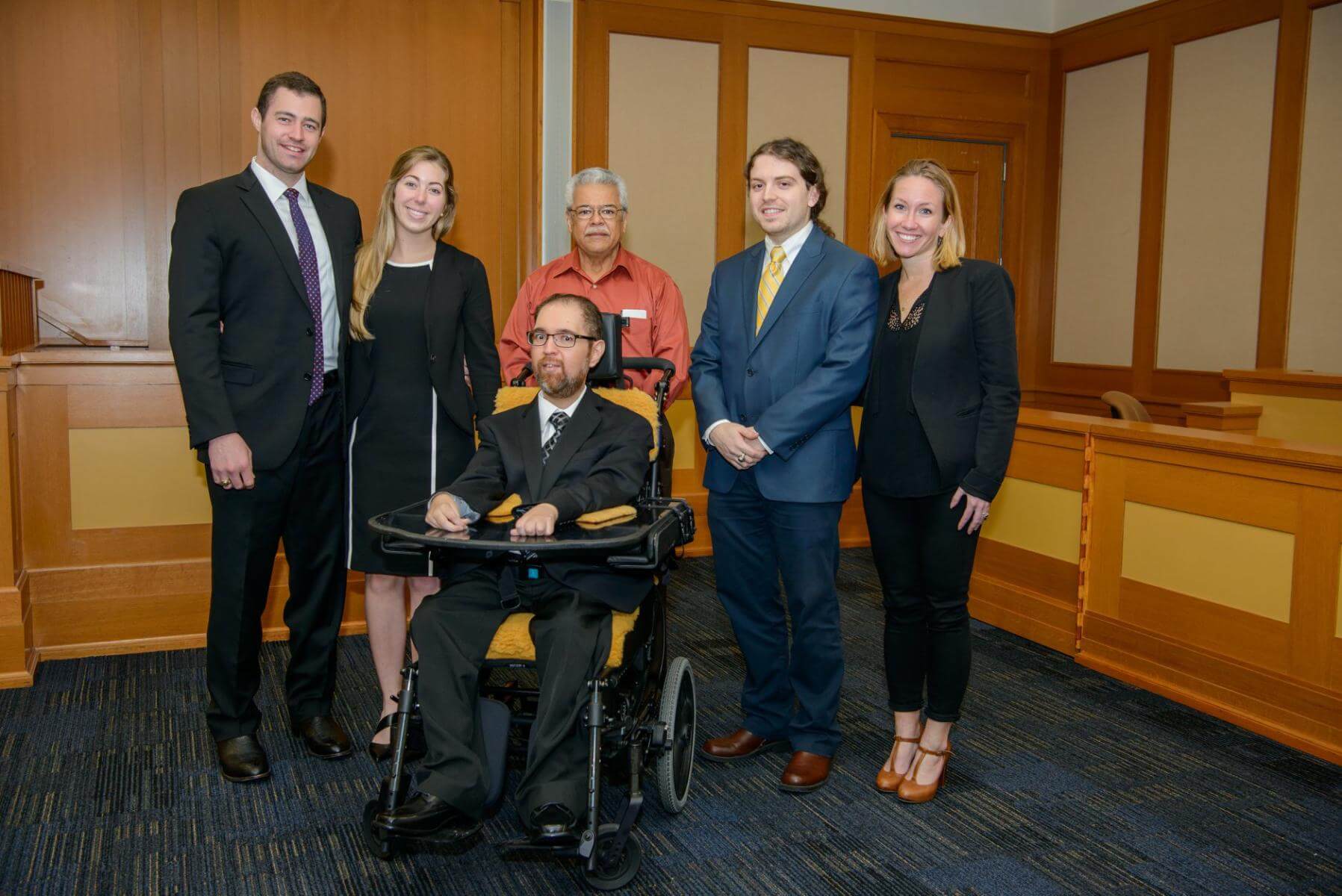 Gilbert Vasquez III (B.B.A. '02, M.B.A. '05, J.D. '20) is no stranger to adversity.
After four and a half years of law school, he is finally ready to (virtually) cross the stage.
It hasn't been easy. Vasquez was originally set to graduate in Spring 2020 but, after being hospitalized when his entire family caught COVID-19, he had to focus on his recovery first.
"The journey has been very rewarding. It was not easy by any means, because it's not supposed to be," Vasquez said. "But anything worthwhile in life is going to take effort and preparation."
Vasquez understood this going in. The question of how he'd take the bar exam when he has physical limitations due to muscular dystrophy nearly held him back from even applying to law school.
But after 10 years in the banking industry, Vasquez felt a calling to do more. And his uncle is a retired judge, so he had an idea of what to expect.
"I wanted to give back. And I figured, what better way to do that then for people who don't have the knowledge or the way to express themselves or represent themselves?" Vasquez said.
As a previous graduate of St. Mary's University, Vasquez had a strong support system already in place. Choosing to go back to the University for his J.D. felt like returning home.
"From the very beginning, St. Mary's welcomed me with open arms. They were very helpful. All the accommodations that I really needed to be able to give me a level playing field was provided by the school," Vasquez said. "It allowed me the opportunity to experience law school just like everyone else."
From the Classroom to the Courtroom
Vasquez said he felt blessed to have learned from the tremendously knowledgeable and experienced professors at St. Mary's Law, such as Professors of Law David Grenardo, J.D., and Albert Kauffman, J.D.
"Gilbert was an excellent law student, very well-prepared and very engaging to talk to. He was really part of the community," Kauffman said. "He'll be an excellent lawyer."
During his time at St. Mary's Law, Vasquez participated in the Advocacy Program and competed in mediation and negotiations tournaments as part of the Alternative Dispute Resolution (ADR) team.
"When we started, there were only nine of us on the team, and I took tremendous pride in being one of those nine members," Vasquez said. "Being selected to represent not only them, but the entire school at a national level was tremendous for me."
In the first regional tournament he competed in, the 2018 American Bar Association National Mediation Regional Competition in Miami, Vasquez's team earned second place. The first place winner was also a St. Mary's team. Because St. Mary's Law placed both first and second, it meant that both teams would be heading to the national competition.
"He was an incredible competitor. He thinks three to four moves ahead," said A.J. Bellido de Luna, J.D., Hardy Director of Advocacy and Service Professor of Law. "He is one of those people who does not let his challenges define him. He is all about seeking greater knowledge and learning how to use it."
Vasquez considers that competition experience his biggest defining moment. The ADR team's stellar performance contributed to the St. Mary's Advocacy Program's Top 4 ranking by the ABA.
"I take a lot of pride in being a small part of that," he said.
As a future attorney, Vasquez aims to be a generalist, rather than specialize in one field of law. He also expressed interest in mediations and is already a certified mediator.
"One thing I live by is constant improvement. I'm always looking for ways to make myself better, whether it's professionally, academically or spiritually," Vasquez said. "I'm always looking, not only for myself, but for those around me, so I can make things better for everybody."