April 22, 2020
The $500 that Sociology junior Liam Morrison received from the St. Mary's University Student Emergency Fund made paying rent and buying food for a month bearable.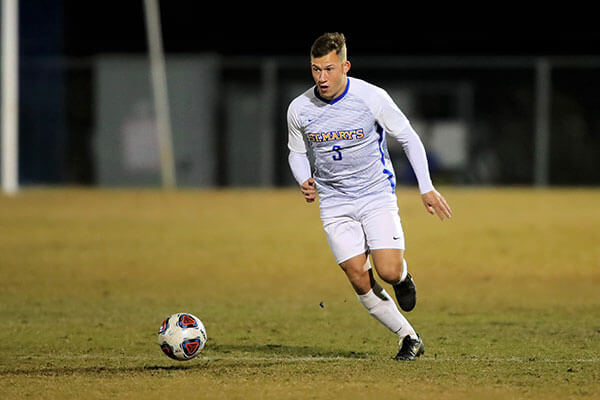 Morrison, an international student from Scotland and a Men's Soccer player, is one of about 140 students who have relied on emergency assistance from the University to make ends meet in recent weeks.
"Every little bit helps," Morrison said. "When you're stuck in a foreign country not able to work because of your visa and you've got no family here, anything that comes your way is greatly appreciated."
St. Mary's alumni have come together to help students, the University and the San Antonio community in numerous ways since the effects of the COVID-19 pandemic began to impact the region.
This month, the St. Mary's University Alumni Association has given the University significant scholarship funding totaling $620,000. Alumni also continue to give tens of thousands of dollars in emergency aid to students, such as Morrison, through the Rattlers Helping Rattlers campaign.
"Hundreds of our students are suffering, experiencing great financial need," said President Thomas M. Mengler, J.D. "They are struggling to cover their basic living expenses. Many of them have lost part-time jobs, which help to pay their tuition and their room and board. Some of their family members, including their parents, may have lost their jobs as well."
"I'm asking you, our alumni, to donate whatever you can," Mengler added.
On an individual level, Mona Mengler, the president's wife, has sewn more than 100 face masks for family, friends and Catholic Charities San Antonio. And alumni who have recovered from COVID-19 have been among the first in the area to give plasma to help treat those still fighting the virus.
Alumni Association gives big to scholarships
This month, the Alumni Association gave the University $620,000 to encourage new students to attend and keep existing students on the path toward finishing their degree. This significant gift will provide access to a St. Mary's education for dozens of students.
"As always, we are here to serve and do what is best for our St. Mary's community and students," said Corinne Vela-Zapata (B.B.A. '82), president of the Alumni Association. "I am glad we could provide assistance during this difficult time."
"So many families are dealing with the economic realities of COVID-19, and we are grateful to the St. Mary's University Alumni Association, which has stepped up with this gift," Mengler said. "This transformative gift will be used exclusively to recruit new students and retain current students who otherwise might not be able to attend St. Mary's in the fall. This is truly an act of the St. Mary's alumni family helping those most in need to continue their educational journey."
Rattlers helping Rattlers with emergency aid
As fundraising continues, more than 300 donors have given over $55,000 to the Rattlers Helping Rattlers campaign that provides emergency funding to students.
The Office of Student Development has provided average awards of $500 to 139 students thus far, ranging from freshmen to law and graduate students. Applications for emergency funding continues to roll in as students grapple with the financial implications of COVID-19, such as paying for rent, utilities, food, bus tickets, U-Haul rentals to move out of the residence halls, and Wi-Fi to access online courses.
"Back home, my family is not able to work, so they're not able to make money," said Morrison of his parents in Scotland. "That $500 meant so much because it just took a weight off my shoulders and off my family's shoulders."
Alumni inspire through giving
Alumni, inspired by their own experiences and the need they've seen across the community to give to the Rattlers Helping Rattlers campaign, have come together to encourage additional gifts.
"We have all been in their shoes. We know how difficult it can be financially to be a college student. Especially when you hear of students losing jobs and their parents losing their jobs, it is just heartbreaking. Rattlers Helping Rattlers gives us an opportunity to exercise some humanity and help those in need. It provides us an opportunity to be an example — a standard-bearer."
Robert A. Massie (B.A.M. '07, M.S. '14)
"Sometimes I think that I have to give back. There is no option. I was in my first few semesters of my Master of Science in Computer Science. I was having trouble in Hardware and Operating Systems with Dr. Doug Hall. I was unhealthy, overweight and diabetic (undiagnosed). My mother had died of breast cancer that January. All of that made me want to give up and quit. … Dr. Hall cared enough to ask me what was going on. He listened and explained how his mother died while he was in school. Then he asked me what my mother would want me to do. I had to say, 'finish,' because that is what she believed. Education changes your life. He said, 'OK,' then proceeded to help me through the class. I graduated four years later. Without Dr. Hall's story and help, I would not be here today. … This is why I give as much as I can. St Mary's changed my life. Maybe I have a chance to change someone else's."
Valeria R. Garza (B.S. '18), MBA student
"We are all experiencing great uncertainty and challenges right now, and I want to help students feel at peace so that they can stay motivated in their St. Mary's journeys. Alumni support of Rattlers Helping Rattlers is invaluable, because when we give, we send a powerful message of affirmation and hope to our students, reminding them that the St. Mary's family spirit is not bound by time or place."
You can hear more below from President Mengler and the Rev. Timothy Eden, S.M., Ed.D., Rector and Vice President for Mission, urging alumni to give to Rattlers Helping Rattlers.