October 14, 2020
Event to unite the legal community through music and ritual
The San Antonio legal community will gather virtually for Red Mass this year on Thursday, Oct. 22, to continue upholding the centuries-old tradition that marks the fall start of the judicial year.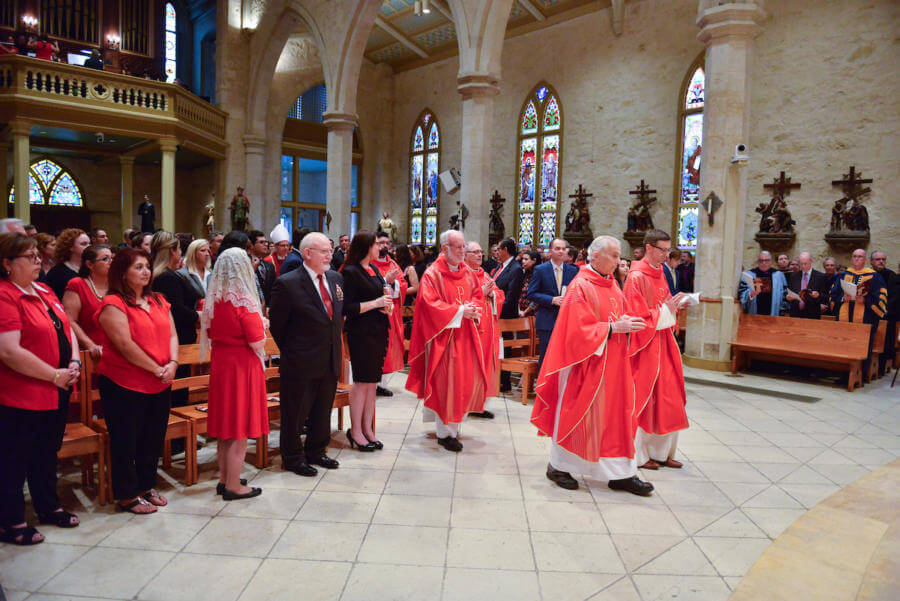 "Please join the St. Mary's University School of Law and the Catholic Lawyers' Guild of San Antonio for Red Mass, a centuries-old tradition, now in its 68th year in our city, as we ask that the work of those engaged in the administration of justice be enriched with wisdom and compassion," said School of Law Dean Patricia E. Roberts, J.D.
The Most Rev. Gustavo García-Siller, M.Sp.S., Archbishop of San Antonio, will be the principal celebrant and homilist. Roberts will give welcome remarks.
The Red Mass tradition dates to 1245 in Europe when both the bench and bar attended the Mass together at the beginning of each judicial session. The name references both the crimson robes worn by judges and red vestments worn by priests in honor of the Holy Spirit. Legal communities across the country celebrate Red Mass to request God's blessings and guidance on the administration of justice.
St. Mary's Law and the Catholic Lawyers' Guild of San Antonio revived the tradition 68 years ago and organize the annual event with representatives from San Antonio legal organizations, the judiciary and the State Legislature.
"The in-person gathering at San Fernando Cathedral has been limited to 60 representatives this year. Alterations will be apparent with seating spaced pews apart, red masks and social-distancing reminders," said Sister Grace Walle, F.M.I., School of Law Chaplain. "But what hasn't changed is the need to still unite in order to reflect on the spiritual aspects of the vocation and to pray that justice will prevail even in the most trying of times."