By Jennifer R. Lloyd (M.B.A. '16)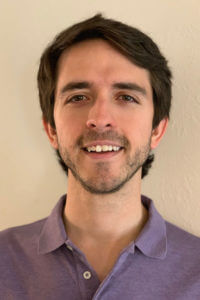 Though John Brown's heart is set on a future in trial law after he graduates from the St. Mary's University School of Law this week, he will take across the commencement stage the personal trials that have been part of his journey — the loss of his brother and father.
The Class of 2019 J.D. student will offer remarks at the St. Mary's University School of Law's Eighty-fifth Annual Spring Commencement at 1 p.m. on Saturday, May 18, in the Alumni Athletics & Convocation Center, Greehey Arena.
"I've always wanted to be a lawyer from Day One, it's one of those innate things," said Brown, who grew up in Graham. "It's a rewarding profession. You have to work hard. You're lucky if you find work that's worth working hard at."
At age 15, Brown got a taste of the law working for then-Young County Judge Stanley H. Peavy III (B.A. '84).
"I got a little glimpse of him presiding over cases and watching good old lawyers duke it out, and it looked like a lot of fun to me."
In Fall 2015, a year before enrolling at St. Mary's Law, Brown said his father was given a terminal diagnosis with Amyotrophic Lateral Sclerosis (ALS). Soon he would also find out that his wife was expecting a baby boy, who was born in June 2016. His family priorities helped him select St. Mary's for his legal studies.
"I thought, for the sake of my wife, my son, my soon-to-be widowed mother, what would help keep me spiritually sound? St. Mary's had the resources to do that," Brown said. "The faculty and administration are empathetic. You've got Assumption Chapel (on campus) just a couple steps away if you need to get some peace and solitude and pray. Sometimes, it's the simplest things that make the difference."
Then, during his second semester of law school, in the midst of his property law final exam, he said "I could feel in my gut that something wasn't right somewhere in the world."
"I happened to look up from my exam and there's the proctor looking at me," he said. "They had a note and handed it to me. They said you have an emergency phone call. Call your wife."
He thought initially maybe his son had injured himself or perhaps something had happened to his dad. But his wife told him that his little brother, Harrison Brown, had been stabbed at the University of Texas at Austin, the same school from which John Brown earned his undergraduate degree. Harrison Brown died shortly after the attack by another UT Austin student that included injuries to three more students.
A month later, their father died as well. But through accommodations provided by St. Mary's, John Brown said he was able to resume his studies by August.
"I wasn't in law school just for the heck of it," said Brown, adding his experiences will help him be empathetic toward his clients. "It was what I was born to do, and I wasn't going to let anything stop me."
While at St. Mary's Law, Brown competed on the mock trial team in Dallas and Baton Rouge, Louisiana. He and a partner also won the law school's Larry G. Hyden Mock Trial Competition. He's been a judicial intern with the Fourth Court of Appeals, interned at the Bexar County District Attorney's Office's criminal trial division, and clerked for trial attorney Thomas Kemmy (J.D. '86).
"You get to work on some of the toughest problems and see them through to the end," said Brown of his chosen career. "After going through the legal system as a victim and having that prospective, you really do have an opportunity to help people."