October 31, 2019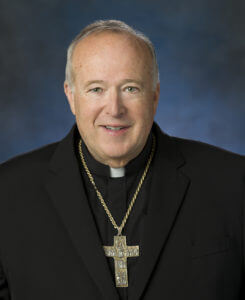 Two events next week will draw the St. Mary's University community and the public together in celebration and dialogue on topics of faith.
St. Mary's University will commemorate 200 years of Marianist education with a public celebration Monday, Nov. 4.
The Catholic and Marianist University will continue its faith dialogue on Wednesday, Nov. 6, with an open scholarly discussion by the Most Rev. Robert W. McElroy, S.Th.D., Ph.D., Bishop of the Diocese of San Diego. McElroy will lead the MacTaggart Catholic Intellectual Tradition Lecture titled, "Rebuild My Church."
200 Years of Marianist Education
Two hundred years ago, the Society of Mary opened its first school in Bordeaux, France. Since then, they have brought Marianist education to the world. From the beginning, all teachers, both professed religious and committed laity, have received formation in the Marianist charism and educational tradition, sharing it with their students for more than two centuries.
St. Mary's University has been part of this proud tradition since its founding in San Antonio in 1852. Recognizing this 200-year milestone serves as a renewal of commitment to the human and religious values embodied in the Marianist educational tradition.
The St. Mary's Marianist Educational Associates have organized a celebration prayer service and reception at 4:30 p.m., Monday, Nov. 4, in Treadaway Hall, Guadalupe Chapel.
MacTaggart Catholic Intellectual Tradition Lecture, "Rebuild My Church"
The 2019-2020 MacTaggart Lecture Series continues its focus on the challenges and opportunities ahead as the Catholic Church works to re-engage with the community by presenting its second lecture on the theme, "A Church in Crisis Moves to the Future."
McElroy, a moral theologian, will give his free public lecture, "Rebuild My Church," from 7 to 8:30 p.m. on Wednesday, Nov. 6, in the University Center, Conference Room A.
McElroy serves the United States Conference of Catholic Bishops on its committees focusing on domestic justice, international justice, ecumenism, Africa and Latin America.
The St. Mary's University Office of Mission hosts the free, annual lecture series featuring men and women helping to shape the Catholic Intellectual Tradition, which is at the heart of the St. Mary's educational experience.
Those traveling to campus can park in Lot D, near the NW 36th Street entrance; or Lot H, near the Culebra Road entrance. For directions, visit www.stmarytx.edu/map.