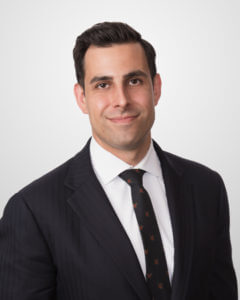 From his sanctions law practice perched on Pennsylvania Avenue in Washington, D.C., Erich Ferrari (J.D. '06) is always upfront with his clients, even if he knows they won't always be happy with what he has to say.
This has lost him clients before, but Ferrari doesn't want to give unrealistic expectations.
"There are too many lawyers who will do whatever clients tell them to do, and that's a bad approach. I don't make up the facts," Ferrari said. "All I do is take the information available and package it in a way that is presentable to the (federal) government and puts their position forward in the best light possible."
Ferrari has been a sanctions lawyer for almost 12 years. He has represented U.S. and foreign corporations, financial institutions, exporters, insurers and private individuals in trade compliance, regulatory licensing matters, and federal investigations and prosecutions.
Typically, clients fall into one of three areas: they are on a sanctions list; need representation after dealing with embargoed countries like Iran, Cuba or Syria; or want help navigating a policy.
These cases are frequently heard before the U.S. Department of the Treasury's Office of Foreign Assets Control, the U.S. Department of Commerce's Bureau of Industry and Security, and in federal courts throughout the country.
About 80 percent of Ferrari's work requires him to travel outside the U.S., so he is abroad nearly every week to places such as Colombia, Mexico, the United Kingdom, Germany, Myanmar and Lebanon.
"I view my job not as trying to get clients out of trouble, but making sure they only get punished if the law finds liability and the consequences are appropriate," Ferrari said. "I can't change the facts, but I can make sure the government follows every rule they are supposed to in doing their job."
At the St. Mary's University School of Law, Ferrari said he had the freedom to explore the topics he was interested in, namely national security law.
After graduation, Ferrari moved to Washington D.C., where he felt he had the best chance of practicing it. Instead, he ran into a lawyer from Texas who hired him to do sanctions work.
Then, in 2009, Ferrari took a leap of faith.
"I decided I wanted to create my own sanctions-specific practice, so I left my job. You don't have to go the traditional route. There's risk involved, and it's hard," he said. "But it's also exciting and fun, and I wouldn't trade the way I did it."