by Melanie Skaggs (M.A. '02)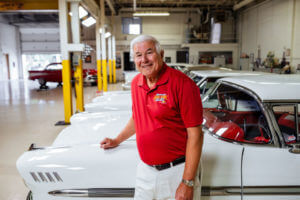 You can hear the joy in John Sieffert's voice when he talks about his collection of '50s and '60s factory muscle cars, most of which are restored to concours quality — a standard far exceeding mint condition.
Such an impressive stable of horsepower, ranging from a 1957 Chevrolet Bel Air to a heart-pounding 1970 Ford Mustang Mach 1, would license bragging from most. But for Sieffert (B.B.A. '62), it's about enjoying the hobby and sharing a dozen amazing cars with other passionate collectors.
Seeking out like-minded enthusiasts reflects the emphasis on friendship that has propelled Sieffert down life's highway — from the buddies who brought him to study at St. Mary's University to the friends who steered him into the business world.
Relationships have been and continue to be a driving factor in Sieffert's life. This is especially evident with his wife, Peggy Sieffert, who shares his love of collecting cars and maintaining their pristine show condition.
The Siefferts participate in cruise-in nights — social gatherings and information swaps for car collectors — during the week and larger car shows on weekends.
"Often, we will each take a car," John Sieffert said. "It's especially fun when we show up in our matching '67 Pontiac GTOs — his and hers. I drive the convertible and Peggy, the hardtop, because she doesn't want to wear her babushka."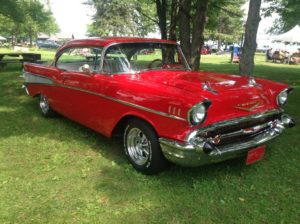 The Siefferts have spent the last two decades accumulating 12 show-stopping cars, but the road leading to this has been even longer.
In 1959, Sieffert's family moved from Kansas City, Missouri, to Detroit because of his father's job in the automotive industry. Sieffert considered going to college in Michigan, but friends from Kansas City who enrolled at St. Mary's encouraged him to come to San Antonio. "St. Mary's was the right place for me," Sieffert said.
Taking full advantage of the college experience, he studied, worked part time at the bookstore, joined the Sigma Beta Chi fraternity and enjoyed watching basketball and baseball, making lifelong friends along the way.
Sieffert returned to Detroit after graduating from St. Mary's and was accepted into a graduate training program in Production Control and Purchasing at Ford Motor Company. After four years, he decided to change direction and pursue other opportunities in industrial sales.
In 1967, a casual conversation with two friends — Jack Bruce, an insurance agent, and Chuck Chupick, a machine operator — altered the course of Sieffert's then-fledgling career.
Following the entrepreneurial road
After tossing around the idea of starting their own machine company, Sieffert, Chupick and Bruce decided to dive into business. The trio formed CBS Boring & Machine Company Inc., drawing the name from the first letter of their last names.
"We had one boring machine in a 1,500-square-foot rented space, hardly any capital and no customers," Sieffert said.
Despite the rough road ahead, they were all hungry to succeed.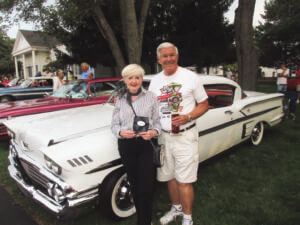 After a few struggling years as a small business, CBS Boring & Machine Company Inc. overcame many of its challenges — "increasing sales with long-term contracts from large companies, acquiring and financing new equipment, expanding a highly skilled workforce and developing a reputation for successfully handling multi-million-dollar contracts," Sieffert said. The company eventually began machining engines and other large parts for heavy-equipment makers, such as Caterpillar, General Motors and even for U.S. military tanks.
"Since the three of us were single, we were able to devote all our time and energy into getting the company off the ground," Sieffert said.
This was perfect for him since he did not want to get married until he turned 40. As it turned out, Sieffert married the love of his life, Peggy, on Oct. 21, 1978 — one day after his 40th birthday.
CBS Boring & Machine Company Inc. continued to grow and, after 40 years, the trio sold the business to a group of company managers, who have ensured the business continues to thrive.
"It has been a great ride since leaving St. Mary's, but not without a few bumps and potholes along the way," Sieffert said.
"I never had time for any significant hobbies," he said. "But in 1998, I bought my first classic — a beautiful, black 1957 Chevy Bel Air. I had no intentions of ever having more than this one car."
Eleven cars later, Sieffert relishes his hobby, particularly each car's history.
"Some of the cars were purchased at Barrett-Jackson and Mecum auctions around the country, each with its own unique story. We show them in a competitive environment during the year, at indoor car shows throughout the Midwest and have accumulated numerous trophies and awards," he said.
This article honors the memory of Peggy Sieffert, wife of John Sieffert, who recently passed away.