by Melanie Skaggs (M.A. '02)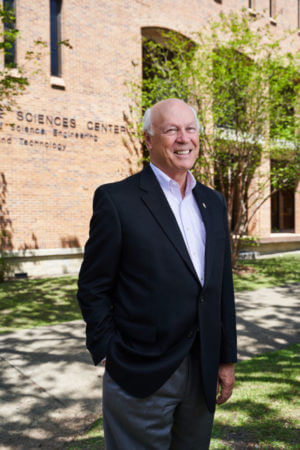 David Biegler (B.S. '68), the Dallas-based chairman and retired CEO of Southcross Energy, has been giving back to St. Mary's University for decades — not only through generous monetary donations, but also through his time and effort on the St. Mary's University Board of Trustees.
Biegler has become the longest serving non-Marianist Trustee with 24-years of total service and became Trustee Emeritus in June. The only person to have served longer is Trustee Emeritus Brother Richard Dix, S.M., (B.S. '52), who stepped down after 26 years.
Raised in San Antonio, Biegler learned about St. Mary's as a Central Catholic High School student. Every year, two Central Catholic seniors received Marianist scholarships. Biegler won one, enabling him to study Physics at St. Mary's under the late Brother William J. Hamm, S.M., Professor Emeritus of Physics, whom he would come to admire deeply.
For Biegler, coming from a family of modest means — his father a firefighter and his mother a school bus driver — receiving the Marianist scholarship instilled in him a sense of gratitude.
"Part of my obligation is to always give back to the Marianists," said Biegler, who gave $500,000 along with his wife, Diane Knape, to enhance laboratories and buildings in the School of Science, Engineering and Technology.
After graduating, Biegler went on to an impressive career in the energy industry, but still found time to serve on the St. Mary's Board of Trustees and other boards, such as Southwest Airlines Co.
Biegler's passion "to actively participate, be proactive and support change" recently led him to chair the St. Mary's Defining Our Future Task Force to prepare the University for the year 2040.
"You have to get people to think about how to make St. Mary's better for those who will be here 20 years from now," Biegler said.
"The value of the Defining Our Future Task Force is to get people talking, to recognize our challenges, confront them head-on and determine the University's future.
"Because we are addressing these issues, I feel better about where St. Mary's is today than I ever have."