September 25, 2019
San Antonians run or walk to benefit Holy Rosary Catholic Church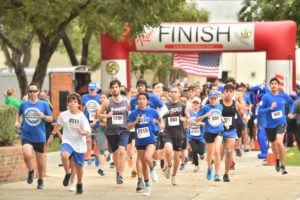 Several hundred runners and walkers of all ages will lace up their sneakers and leash up their dogs on Sunday, Oct. 6, for St. Mary's University's sixth annual 5K run/walk — the StMU 5K for the Neighborhood.
Proceeds from those running and walking with a purpose will benefit the University's next-door neighbor, Holy Rosary Catholic Church, which is led by Marianist priests and brothers.
"Throughout the years, we've encouraged hundreds of students, employees, alumni and friends to come together with a purpose, raising almost $100,000 to support our surrounding community," said University President Thomas M. Mengler, J.D.
"This 5K isn't about the training, the miles or even the finish time; it's about making a difference. Please join me in making a difference again this year," Mengler said.
The StMU 5K is part of an ongoing effort to enhance quality of life through neighborhood revitalization. St. Mary's strives to be a vital partner in promoting the health and wellness, education and safety of the community near the campus. Last year alone, the 5K raised about $15,000 to enhance services and outreach programs in the St. Mary's Gateway District.
This year, Corinne Vela-Zapata (B.B.A. '82), president of the St. Mary's Alumni Association and a USAA product management director, will act as the event's first honorary starter.
StMU 5K for the Neighborhood
Who: St. Mary's University community, local runners and walkers, dogs (spayed/neutered, leashed)
When: Sunday, Oct. 6. Opening remarks at 8:45 a.m. 5K begins at 9 a.m.
Where: St. Mary's University campus. Start/finish at Alkek Plaza.
Why: Raise funds for Holy Rosary Catholic Church neighborhood outreach programs
Registration: Online or on race day at 7:30-8:30 a.m.
Parking: In front of campus in Lots V and S, or at the back of campus in Lot D. For more info, visit our campus map.
Amenities: Food, beverages and live music after the 5K. Awards ceremony at 10 a.m.
Packet Pickup: Bibs, timers and T-shirts may be picked up at these locations:
Thursday, Oct. 3, and Friday, Oct. 4, 10 a.m.-7 p.m.
St. Mary's University Alumni Athletics & Convocation Center
Friday, Oct. 4, 9 a.m.-5 p.m.
St. Mary's University Alkek Plaza
Sunday, Oct. 6, 7:30-8:30 a.m.