by Alex Z. Salinas (B.A. '11)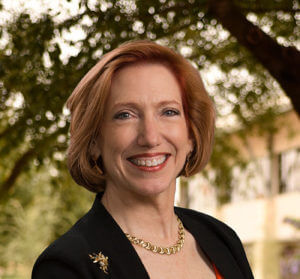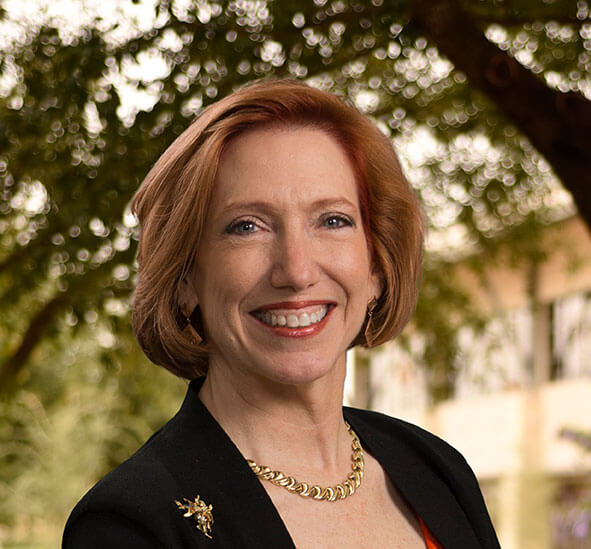 Susan Gordon joined St. Mary's University in Spring 2018 as the Contreras Family Executive in Residence for Risk Management — a newly created position endowed by a $2 million gift from Tom (B.B.A. '88) and Leti (B.A. '89) Contreras to boost the Finance and Risk Management program at St. Mary's.
With more than 30 years of experience in corporate risk management and insurance, Gordon comes to St. Mary's with expertise and professional connections that will be invaluable to St. Mary's students.
We caught up with her a little bit to get to know her.
Q: As the new Contreras Family Executive in Residence for Risk Management, what are your responsibilities in a nutshell?
SG: Working together with Dr. David Sommer and Dean Tanuja Singh, my responsibilities are to grow and develop a "best in class" industry-recognized risk management and insurance program here within the Greehey School of Business. My primary responsibilities include industry outreach, student mentoring and professional development, and internship and job placement.

Q: What is risk management, exactly, and what's the most important thing everyone should know about it?
SG: Starting with the latter question, the most important thing everyone should know about risk management is there is nothing exact about it. In fact, probably the most common response given by a risk management professional when asked that question is, "it depends." Risk management is a process for identifying, assessing and prioritizing risks of different kinds. Once risks are identified, the risk manager will create a plan to minimize or eliminate the impact of negative events.

Q: Before coming to St. Mary's, you worked more than three decades in the insurance and risk management industry – 21 years with the Zachry Group most recently. How will you use your professional experience to help our students?
SG: My main goal is to use my professional experience to provide each and every student I meet and work with the best chance to succeed. Through mentoring, advice and guidance, I want students to be aware of the many types of careers within the risk management and insurance industry.

Additionally, I hope that by sharing my experiences and lessons learned, students will be well-prepared to navigate tough issues and situations they may encounter either during their job search or once they join the workforce. I will work with students to enhance and develop their professional skills in areas such as presentation and interviewing skills, business etiquette and communication skills.
Lastly, using the many industry relationships and networks I've acquired over several decades, I plan to broaden and expand networking, internship, career and other industry engagement opportunities for students.

Q: What was it about your new role that ultimately drew you out of your high-profile position in the corporate world?
SG: When I learned and read the job description for the Contreras Family Executive in Residence for Risk Management, my first thought was, "Wow, this would be my dream job." It fit my background and experience perfectly. This role provides me with a platform to help to develop the talent pipeline for the next generation of risk and insurance professionals.
I was privileged to work for an outstanding, privately held company here in San Antonio for 21 years. The company culture and values there provide such a positive work environment that I was not looking to make a move. But the more I learned about the University's mission and its commitment to students, I felt I could bring additional value to an already great program with my industry relationships and real-world corporate risk management experience.

Q: As the Executive in Residence for Risk Management, you will be working closely with David Sommer, Ph.D., Charles E. Cheever Chair of Risk Management, whom you met more than 10 years ago. Can you talk about your relationship Dr. Sommer, and how you plan to collaborate with him?
SG: Dr. Sommer and I share a common bond with the University of Georgia's Risk Management program in the Terry College of Business. I was a graduate of that program and as an alumna, I participated in industry seminars and events over the years. Dr. Sommer and I first met at one of the risk management department's annual Insurance Management Seminars, before he came back to San Antonio to join St. Mary's — his alma mater — as faculty. Through our collaboration and shared knowledge, we will create a strategic plan for the growth and long-term sustainability of the Finance and Risk Management program at St. Mary's.

Q: While you're still settling into your new environment and learning about our unique culture, what has struck you most so far about being at St. Mary's?
SG: The longer I'm here, and the more people I meet, whether they're students, faculty, professional staff or others, I'm most impressed by how positive and happy everyone seems to feel about being here. I'm also very impressed and pleased to see the close connection between faculty and students and the level of personal interest they have in students' success, which is also supported by the University's leadership and staff.

Q: What do you love most about San Antonio?
SG: Green chicken enchiladas! Seriously though, I love the cultural diversity and the warm Southwest hospitality. People genuinely seem to love life living here. San Antonio also has a very strong community of caring for others, which I find very appealing. This city just has a very upbeat, positive energy in general, which makes it a wonderful place to live and work.

Q: What book is on your night table right now?
SG: I have many books on my Kindle app — as I do love to read. I just finished a World War II historical fiction novel, From Sand and Ash.

Q: As a child, what did you want to be when you grew up?