The Scholar: St. Mary's Law Review on Race and Social Justice has given a voice to minority legal issues for two decades.
Twenty years ago, six second-year J.D. students shared a vision: Create a law review, a scholarly journal focusing on legal issues facing minorities, to "give a voice to the voiceless," as their mission states.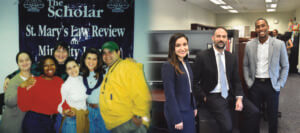 Soon 18 more students joined the vision, at the time unofficially called The Hispanic Scholar.
"The group of students interested were so diverse culturally and racially and socioeconomically that it didn't seem fair to just call it The Hispanic Scholar. We ultimately narrowed it down to two or three names," said founding member Sonia M. Rodriguez (J.D. '99), partner with Branton | Hall | Rodriguez | Cruz, P.C. and the law school's 2010 Distinguished Young Alumna.
Eventually, the publication came to be known as The Scholar: St. Mary's Law Review on Race and Social Justice, for which Steven Marrone is now editor-in-chief. The Scholar has been quietly rising up the ranks of law reviews, most recently landing in the top 19 percent of worldwide journals, according to rankings released by the Washington and Lee School of Law.
Marrone is one of 41 students who make up Volume 20 of The Scholar — a testament to how much the organization has grown.
"Every year it keeps going puts a smile on my face," said founding member Isabel de la Riva (J.D. '99), founding partner of de la Riva & Associates. "It's changed a lot since it first started, but it's grown, and I'm so glad students get to write about issues that make people uncomfortable but also make them think."
During its humble beginnings, the students for Volume 1 worked with slow computers under a leaky roof. They paid for their own office supplies, refrigerator and coffee machine. Their budget provided just enough to scrape by.
Despite their administrative worries, the staff's writing flourished.
"To this day, the first students who signed up are some of the bravest people I know. They were picked by the founders who had nothing to show the publication was going to be successful other than some previous articles we edited and our enthusiasm," said founding member Denise Y. Mejia, who now has her own practice. "I don't know that I would have done it, if I were in their position."
A staff writer is responsible for doing legal research and editing articles that have been submitted from practitioners, law faculty and clinical professors from around the world, Marrone said.
They also write their own comments for issues they are especially passionate about, Marrone said.
"We touch on a lot of topics that make the staff get out of bed in the morning and put on their armor to do battle, and so I think people are really committed to researching those issues and articulating them for those who need advocacy," Marrone said.
One editorial board member wrote about juvenile rights and mandatory sex offender registration, addressing some of the disparities that come up in both topics.
Another board member, Associate Editor Alejandra Martinez, published a piece last year about an Army veteran who — even though he was entitled to citizenship because of his service — did not receive it because of an error in the process. As a result, he was deported to Mexico, where he still lives.
Staff Writer Kacey Villafuerte published a comment on the high maternal mortality rate in Texas. She described her time on The Scholar as an "eye-opener."
"You don't realize some of these things are issues, but you start paying attention and researching more," she said.
"That's one of the things that separates us from more traditional law reviews. All of the issues we touch on have a human element," Marrone said.
The issues the staff covers tend to be controversial, and as a result, can be a difficult fight.
"As long as we get the issues out there and people are talking about it — even if the legislation doesn't change — people know it is an issue that others are experiencing," Villafuerte said.
Rick Ramirez (J.D. '06), partner of Clayton & Ramirez, PLLC, in Austin, shares the sentiment. He has always liked to fight for the little guy. That was what initially attracted him to The Scholar.
Once he joined, he realized he was part of something bigger.
"You're part of something great people have come from," he said. "And there's a potential for greatness that makes you feel that you've already succeeded despite just being a law student."
Jesús "Jesse" N. Joslin (J.D. '17), associate attorney at Clayton & Ramirez, was the editor-in-chief of Volume 19. When he first started law school, joining a law journal was one of the things he looked forward to most.
"The practice of law is very deadline driven, very strict," Joslin said. "Being on The Scholar instilled values in our staff writers to help them understand the importance of getting things done the right way and on time, not only by teaching you to be a better researcher and legal writer, but by holding you to a higher standard."
"The fact that Jesse, who is the newest member of our team, was an editor of The Scholar is not a coincidence," Ramirez said. "That's a key thing we look for: Were you at St. Mary's? What extracurricular activities were you in?"
Hayley C. Ellison (J.D. '10), an associate at Shackelford, Bowen, McKinley & Norton, LLP, attributes much of her growth as a lawyer to her time at St. Mary's University and as editor-in-chief of The Scholar.
Ellison enrolled in law school at age 21, a time when she was still figuring out who she was and what she was made of.
"It was a big culture shock because I grew up in Dallas, and I'm so thankful because the best thing was the emphasis on the responsibility you had to the community as a lawyer," Ellison said. "Being a good person. Using your 'superpower' for good and not evil."
The Scholar emphasizes that responsibility through its mandatory community service for staff writers and by facilitating conversations with the community through its annual symposium.
Last summer, The Scholar received a donation from Terry Bassham (J.D. '85) and his wife, Zulema Carrasco Bassham, to use for the symposium. Bassham, CEO of Great Plains Energy and Kansas City Power & Light, was inspired to give to The Scholar after picking up a copy on a tour of the campus with his wife and daughter.
"When we were introduced to The Scholar, its focus struck us as something we're more personally connected to. You get to learn a lot about race and gender issues as a CEO, and you deal with it all the time," Bassham said.
The courts have taken notice too, citing The Scholar in the Federal Rules Decisions, a federal case law reporter that focuses on district court cases involving rules, such as the Federal Rules of Civil Procedure, and in a Ninth Circuit opinion pertaining to the case United States v. Peralta-Sanchez. The publication has also been cited in several amicus briefs, trial motions and memorandums.
"Twenty years down the road, we're still here," Marrone said. "We're still fighting, still trying to lift up those issues that were just as important 20 years ago."