October 16, 2018
Attorneys to offer volunteer legal services on Oct. 23
The St. Mary's University Law Pro Bono Program, in collaboration with the State Bar of Texas's Standing Committee on Legal Services to the Poor in Civil Matters, American Gateways, Catholic Charities and the Community Justice Program will highlight the importance of volunteer legal services during Pro Bono Day on Tuesday, Oct. 23.
Pro Bono Day, during the American Bar Association's 10th Annual Pro Bono Week, will convene local legal services providers, area volunteer attorneys and law students to address the legal needs of San Antonians that may otherwise go unmet.
"Pro Bono Day promises to increase access to justice for our community," said Greg Zlotnick, J.D., Director of Pro Bono Programs at St. Mary's University School of Law. "St. Mary's Law is excited to convene legal services providers and pro bono attorneys and promote the value of serving justice rooted in our Catholic identity."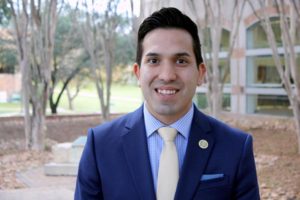 The event at the St. Mary's University School of Law is free and open to the public.
"As lawyers, we have an ethical obligation to provide pro bono services," said Eric Michael Garza (J.D. '16), counsel at Norton Rose Fulbright and the event's organizer. "Pro Bono Day is an expression of our profession's commitment to justice for all."
"Know Your Rights," presented by American Gateways: Volunteer immigration attorneys will be available following hour-long presentations for individuals with specific questions.
Ask-A-Lawyer, presented by Caritas Legal Services, a service of Catholic Charities: Law student volunteers will work with licensed attorneys to provide legal information. Guests may also post questions on Texas Free Legal Answers, a free online resource that connects Texans with legal questions to remote pro bono attorney volunteers.
Wills Community Workshop, presented by the Community Justice Program: The Community Justice Program will partner with the San Antonio Young Lawyers Association to hold its quarterly wills community workshop. This workshop cannot take walk-ins. All clients for this event are prescreened prior to the workshop date.
Guests attending the American Gateways and Caritas Legal Services programs may park in Lot D in spots reserved for visitors and follow the event signage to the Sarita Kenedy East Law Library. Guests seeking assistance from the Community Justice Program must contact 210-227-8828 prior to that evening. No walk-ins will be accepted at the wills workshop.
Throughout the day, attorney and law student volunteers will be invited to stop by the welcome room located in the Law Administration Building, Atrium.