March 28, 2018
For the fifth time in eight years, the St. Mary's University School of Law National Moot Court Team has been crowned the Federal Bar Association's national champion.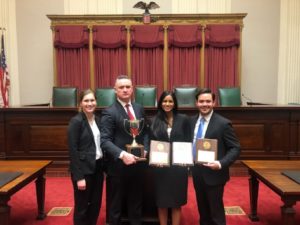 With this championship, St. Mary's Law has now won the FBA's annual Thurgood Marshall Memorial National Moot Court Competition more times than any other moot court program in the country.
The competition, held March 22 and 23 in Washington, D.C., included 40 teams from across the nation.
For the second time in the competition's history, two teams from the same school competed against each other in the final round. This last occurred in 2015, and both instances involved two St. Mary's teams.
Second-year law students Katelynn Duane Armijo and Eden Ramirez reached the final round, while third- year students Sophia George and Gary Hillier won and were crowned national champions. George was also recognized as the Best Oral Advocate in the final round.
Head Coach Ricky J. Poole (J.D. '90) commended the advocates for their countless hours of hard work and dedication.